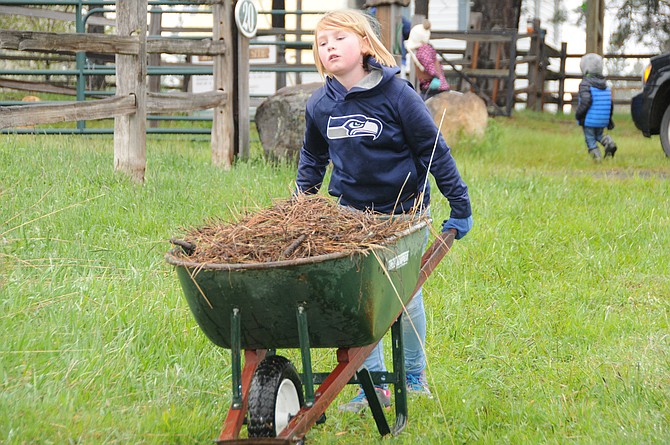 Photo by Lorie Palmer
Pictured pushing a wheelbarrow (above) is Kylea Clemenhagen.
MT. IDAHO — Despite chilly temperatures and intermittent rain, local Girl Scouts braved the weather Saturday, May 6, and spent a couple hours doing manual labor.
Grangeville-based Troop 3702 put on their outdoor muscles and cleaned up the Mt. Idaho Fort site located on Poor Farm Road.
"You have to help me guide it," said Ellie Kouril as she and Sage White pushed a wheelbarrow full of debris up an incline in order to dump it into a burn pile.
"I am! It's heavy!" exclaimed White.
"I have a very full bag of pinecones and stuff," said Callie Weisz.
"Coming through," said Kylea Clemenhagen, pushing another wheelbarrow by herself.
"I need a wheelbarrow over here!" hollered Katelynn Nail as she raked up debris.
The event was one of the girls' service projects, explained leader and mom of Katelynn, Tammy Nail.
"We had to cancel a couple times because of bad weather, but today we just decided to go for it no matter what," she said.
Kathy Warford, who lives next to the site, suggested the idea for the troop and was there to help them rake and move piles.
"People stop and visit here, and it's good to have it cleaned up and looking nice," she said.
The Mt. Idaho Fort site was built by the American Legion to honor the site which was used as a lookout fort during the outbreak of the Nez Perce Indian War in 1877. The land was donated by the Smith family, descendants of Mt. Idaho founder L.P. Brown. It was dedicated by the American Legion June 3, 1939, and restored in 1994-95.
Those who helped with the day's work were Brownies Ellie Kouril, Kylea Clemenhagen, Callie Weisz, Sage White and Katelynn Nail; Daisy Chloe Weisz; Kathy Warford and Vicki Dasenbrock and her grandson, Tristan Tyler; and parents Tammy Nail, Hannah Weisz, Angus Clemenhagen and Monica Walker.