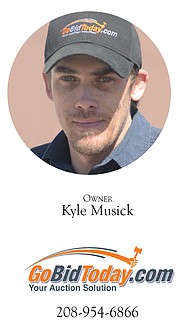 For buyers looking to furnish a home or a shop on the cheap, scouting out local estate sales can be effective. GoBidToday.com – the local professional online auction service – brings the sale to you.
While chairs, chests, nightstands, dressers, tables, flat-screen televisions and such are on offer, the service is not just for furniture and not just for estate sales.
Through the full-featured website, GoBidToday helps sellers move everything from household items to heavy machinery, from appliances to cars, guns and ATVs.
"A major misconception is that auctions are only for distressed or discounted property," said Kyle Musick, GoBidToday auctioneer. "The fact is auctions are the primary sales method when selling valuable assets such as vintage vehicles, multi-million dollar homes and priceless pieces of art. Think of auction companies such as Barrett-Jackson, Sotheby's or Christie's Auctions. The item will not sell for more than the highest bid and will not sell for less than the high bid."
For their clients and customers, GoBidToday takes the time to catalogue and photograph each lot, so as to present each item well online.
"This brings value to our buyers and sellers alike because the buyer knows exactly what they are buying, and are more likely to bid higher with that knowledge," Musick said. "We employ proper security methods and carry insurance to protect our auction inventory."
Buyers are shopping online 24/7 – and if you have items to sell, contact GoBidToday by email at info@gobidtoday.com or by phone at 208-983-7770 for all your professional auction service needs.