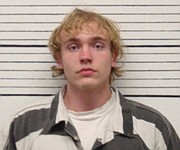 FENN — A Grangeville teen faces a felony drug charge following his arrest during a traffic stop last week.
Triston J. Bashaw, 19, is charged with felony possession of methamphetamine, along with misdemeanor charges of driving without privileges and operating a motor vehicle without liability insurance. He is set for a May 24 preliminary hearing in magistrate court.
According to the Idaho County Sheriff's Office, Bashaw was stopped last Friday morning, May 12, on U.S. Highway 95 in Fenn by Deputy Kevin Brown, during with Corporal Mike Chelbowski deployed Nation, a K-9 narcotics detection dog. According to the release, Nation alerted to the presence of drugs, after which Bashaw was arrested and an unidentified female occupant was released without charges.