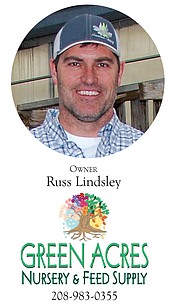 Summer is about here, so, what to do first? May is a great time to work on lawn repair.
First, work on those bare spots by removing debris and thatching moss and mulch buildup. Next, fill in those spots with a mixture that includes a high organic compost.
What about grass? Green Acres carries several different seed blends to choose from. Select one based on factors such as available light and what traffic this section will normally see. Sew lawn seed over the area evenly, working it into the soil about a quarter-inch.
Water this daily. Don't allow the top half of the soil to dry out until seedlings have fully emerged. Keep this moist with a light cover of lawn clippings, peat moss or clean straw. Once established, reduce watering by half and to twice a week or as the soil needs.
Overall, this is the time to get a jump on weeds before they go to seed. By now, you should have done your initial fertilizer application. Green Acres recommends Turtle Green Lawn Fertilizer in part, because it has 2.5 percent available iron content. This application should've been strictly fertilizer. Second and third applications should be a "weed and feed" to encourage strong grass growth and choke out unwanted plants. The weed killer portion of "weed and feed" won't activate until soil temperatures warm up to approximately 50 degrees. We carry St. Paul Weed and Feed for the late spring and summer applications.
Neighborhood Experts -- Green Acres Nursery