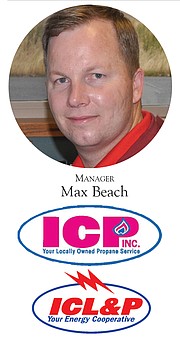 Cooperatives are cool! Did you know that 85 percent of the power we buy comes from a source that is carbon free and renewable? What's this source of power? Hydro power. We are very fortunate to live in the Northwest where dams and rainfall allow us to utilize this form of energy production.

As an electric cooperative, Idaho County Light & Power strives to be good stewards of the environment. But to be competitive and provide our members with the service they desire, we must go further! Customer service, knowledgeable and competent employees, and good value for the money set us apart from other electric companies. Since we live here, and are 100 percent locally owned, we believe in making our communities stronger.

One way we have done this beyond our everyday service, is through our wholly owned subsidiary, Idaho County Propane (ICP). Twenty years ago, we heard the need for a locally owned propane source that would put customer service and value above all else. We believe that through your continued support in ICP that we have achieved that. However, our goals don't stop there. We are committed to being your energy providers and providing you with peace of mind, whether through ICL&P or ICP. We are locally owned and invested in your future! We also know that without our members and customers we would be just another provider!

Good value and great local people serving you every day, but isn't that how it's supposed to be?