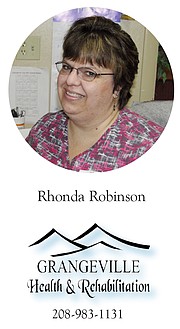 Registered nurse Rhonda Robinson may work behind the scenes most days, but that does not stop her from appreciating her environment.
"I really enjoy the people I work with, the close-knit family atmosphere and the administration here," said Robinson, who has worked at Grangeville Health and Rehabilitation for the past year and a half.
Robinson grew up in Grangeville and became a CNA, then later attended nursing school. She worked at Syringa Hospital before coming to GHR.
"I am usually here in the office," she said, where she pulls information from department heads and compiles data to send in to the state for reimbursement.
"However, I do get pulled out onto the floor once in a while," she said. This allows her to work hands-on with the residents whom she said, "become just like family."
"Then I'm able to hear their stories and get to know them – it's easy to get close to them," she said.
Another responsibility Robinson has is as the CNA course instructor (under LCSC) at GHR. The facility hires people who learn the floor and then have a time frame in order to become certified.
Rhonda and her husband, Don, have been married for 21 years and their family includes two grown children and four grandchildren. They enjoy the outdoors, gardening, yard work, camping and traveling. She is also the administrator of the Facebook page "Anything and Everything Grangeville."