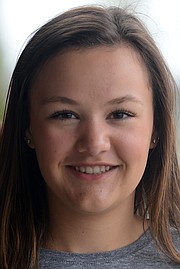 Grangeville senior McKenzie Kennedy has been to the state tennis tournament the past two years, and each time, the weather was lousy.
"It rained both times, so we were inside both times," she said. "We did eights instead of sets. It'll be nice, hopefully, to have some sun."
Weather forecasters see wet weather lingering through Wednesday, but giving way to sunny days in the 70s this Friday and Saturday in Caldwell.
But because there has been little overlap in competition, the competitors the Bulldogs will see are entirely unknown.
"We'll see some of the people in our district, they're familiar to us," Kennedy said. "We don't get to travel really far, so haven't seen any of the southern teams. Normally, they're pretty good. I think their season is a lot longer than ours because of the weather. The first two weeks we were basically inside, but we made it work."
Kennedy and girls doubles partner Maicee Conner dispatched the familiar competition without much trouble last weekend.
After clearing the courts last Friday, Kennedy and Conner had two matches early on Saturday morning.
"We played our own teammates, Chloe [Dame] and Thaun [Le]," she said. "It's always a bummer when you have to meet up with them before the final, but that's just how districts go. In the championship, we played the Coeur d'Alene Charter team that we've been back-and-forth against all season."
They may collide again this Friday or Saturday, May 19-20, at Vallivue.
This Bulldog of the Week athlete highlight is brought to you by: Irwin Drug.