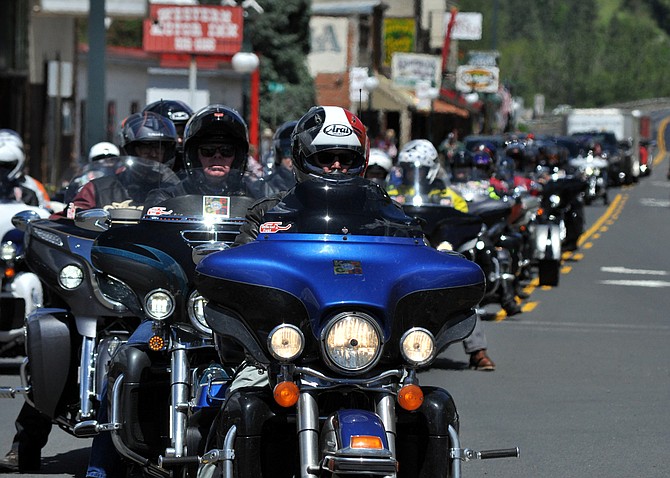 Photo by David Rauzi
Motorcyclists and support staff line up along Kooskia's Main Street last Sunday, May 14, for a stopover of the Kyle Petty Charity Ride. Overall, 125 motorcycles rumbled through town, en route to Missoula later that day.
Photo Gallery
2017 Kyle Petty Charity Ride Across America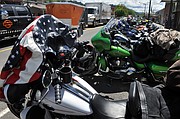 Participants with the Kyle Petty Charity Ride Across America filed into Kooskia Sunday afternoon, May 14.
KOOSKIA — The deep rumble of motorcycle engines filled the air all along Kooskia's Main Street as riders with the Kyle Petty Charity Tour Across America filed into town last Sunday afternoon.
Several dozen people were on hand Mother's Day, May 14, to welcome a line of 125 motorcycles (85 percent Harley-Davidsons) coming off U.S. Highway 12 that took about a half hour to loop through the Kooskia Mart Conoco station and park in two facing lines along Main Street. The Kooskia visit served as a lunch and fueling stop – en route to Missoula — for the ride's 220 participants (riders plus support team) that included several notable sports celebrities, including event namesake, Kyle Petty.
"Towns like Kooskia are so great for our riders," said Petty, former NASCAR driver and NBC Sports racing analyst. "We really feel a warm welcome from the community and love the interaction with fans. The opera house was amazing!"
Celebrities visited with and signed autographs for fans, and Kooskia Mayor Charlotte Schilling made a short presentation, welcoming riders with a commemorative plaque and and proclaiming May 14 as "Kyle Petty Charity Ride Day."
The economic impact from the ride for Kooskia, according to ride coordinators, was $3,200 for lunch and about $1,000 in fuel.
This is the 23rd annual Kyle Perry Charity Ride Across America, funds from which benefit Victory Junction, a year-round camp for children with chronic or life-threatening injuries. The seven-day ride started in Portland, Ore., and will end Thursday, May 19, in Milwaukee, Wisc. The ride last visited Idaho County in 2013 as it traversed U.S. Highway 95 south past Grangeville.
Event details are online through Facebook, Twitter and at www.kylepettycharityride.com .