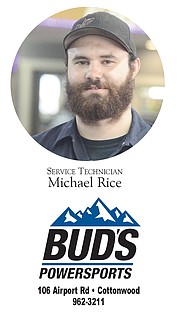 Memorial Day marks the start of the summer recreation season, and that makes this month a fine time to think about how to enjoy this ATV/UTV riding season to the fullest.
"It's always fun to get out on the trail with friends and family to finally get away from town and the grind of everyday life," said Bud's PowerSports service technician Michael Rice. "Once you have the wind in your face and the drinks in the coolers, just remember it is against the law to drink alcohol while behind the wheel of any recreational vehicle. Drinking can cause loss of judgment on the trail, which could end in serious injury. Make sure you're following state laws and if you see an officer out there you won't get hit with a fine or jail."
The main thing, of course, is to have fun – but that means having respect for your fellow riders, as well as the places you ride.
"We always have those few riders that ruin it for everyone by tearing up private property, leaving gates open or leaving garbage on the ground," Rice said. "Make sure to stop and pick up the trash that others leave behind, and ensure a clean riding area for others to enjoy."
The people behind Bud's PowerSports are avid riders themselves, and are people who want to see the riding community grow and prosper. When everyone does their best to do things the right way, the benefits belong to everyone.