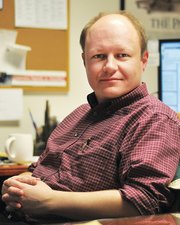 Coming off Tuesday's elections, we're striking while the political iron is hot: You should start thinking about city council and mayoral elections this fall.
While this may seem early, really, it's not.
For prospective candidates, you're going to want to attend some council meetings to get up to speed on not only the issues at hand for your respective municipalities, but also on how city government business is conducted.
But you don't have much time to do that. Most towns hold one council meeting a month (Grangeville is exception; two a month), so that means you have only five (or 10) between now and the Nov. 7 election to attend to get such a basic familiarity, or to make the decision that this really isn't for you.
And that you'll need to decide earlier; Sept. 8 is the filing deadline for candidates. So that means only three (or six) meetings.
We beat the preparation drum on city council elections as these elected bodies have a significant impact upon their constituency, from setting fees and regulating development to ensuring services (police, fire, water/sewer) are provided efficiently and economically. They as well can set the tone for its citizens and so encourage or discourage development, activity and community spirit.
Interested? Check with city clerks in Ferdinand, Cottonwood, Grangeville, White Bird, Riggins, Stites and Kooskia on what positions are open and filing requirements.