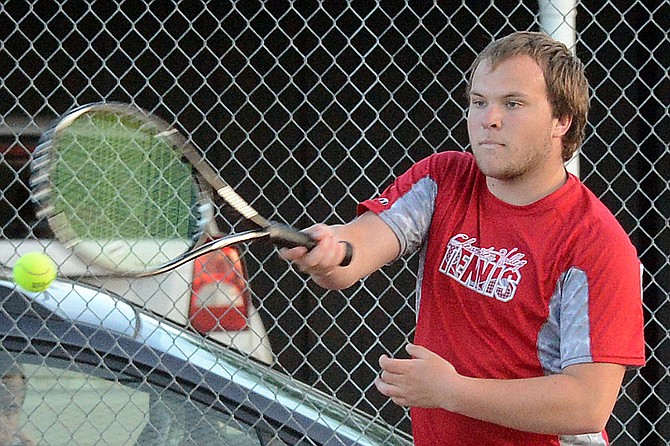 Photo by Andrew Ottoson
Clearwater Valley's Mitchel Nuxoll qualified for the state tennis tournament.
LEWISTON — A rain delay sidelined the small classifications District I-II tennis tournament last Friday morning, May 12, but when the weather finally broke at about 3:30 p.m., the floodgates opened for Grangeville's athletes. Playing shortened matches on account of limited remaining daylight and in anticipation of more rain the next morning, the Bulldogs won three categories outright and qualified 14 in all for state.
In a few cases, GHS teammates battled each other, as when Sophia Bush and Rachel Kelley both advanced to the girls singles title match.
After Kelley won the first set on a tiebreaker, Bush narrowly won the second, forcing another tiebreaker, which Bush also won, 5-6 (3-7), 6-4, (10-5). Clearwater Valley's Mikaela Herrick and Savannah Martin both qualified through the singles consolation bracket, as did CV boys Garrett Jackson and Mitchell Nuxoll.
In girls doubles, Maicee Conner and McKenzie Kennedy won the district title and Chloe Dame and Thaun Le qualified for state.
In boys doubles, CV's Aaron Lahman and Jarrett Nuxoll won the district title and Kamm Mangun and Trayse Mangun qualified by way of third place. The Manguns beat Grangeville's Colby Kennedy and Noah VanDomelan 6-2, 6-1, with Kennedy and VanDomelan qualifying for state in fourth place.
In mixed doubles, Grangeville's Kourtney Sims and Jon Asker took second place and Holland Forsmann and TJ Wiltse took third.
Coming — Grangeville and Clearwater Valley are due to compete in the 3A tennis state tournament to be held this weekend in Caldwell, mainly at Vallivue High School.
Singles start at 8 a.m. MT Friday, May 19, at Vallivue High School, with girls doubles to follow at 9:30 MT. Boys and mixed doubles start at Caldwell High, then move to VHS.