Spring home projects for your bathroom can take their cue from new styles out for the 2017 season, as well as complementary ways materials are being used together to create a fresh, exciting look.
Consider this idea: Use small glass mosaic tiles, mixed with neutral tiles, to bring light to a bathroom area. The application will give the design added depth, and the color combination will give eye-appeal to this commonly used space. With this, also consider using these glass tiles to improve attractiveness behind the sink or vanity area.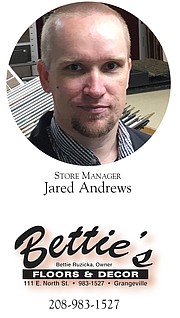 Another idea: Some porcelain tiles have a wood-like appearance, so consider utilizing these into your bathroom floor. This natural look provides a feeling of warmth to this space, and as well the maintenance is easer and will provide greater moisture resistance. In this selection, choices can go between a natural versus a stained look, depending on theme you wish to convey.
One more option: Consider employing geometric-shaped tiles that will blend classic styling with a modern twist. This tile option provides a great image for most any location within the bathroom, from shower to backsplash and floor. As well, geometric tiles can be placed in creative patterns for homeowners to create unique, original designs.
New spring samples are coming in for tile – as well as other floor options such as vinyl and carpet. We invite you to come in to Bettie's Floor and Décor and check them out.
Neighborhood Experts: Bettie's Floors -- Carpet