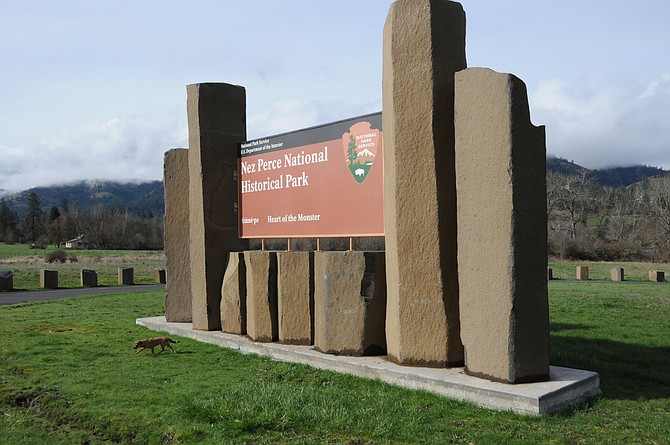 Nez Perce National Historic Park
The main visitor center is located 10 miles east of Lewiston at Spalding on U.S. Highway 95.
The center's exhibits display Nez Perce clothing, bags, beadwork, and other priceless artifacts which offer insight into this unique culture. Requests for special group programs can also be made.
Here are a few of the park sites within the Idaho County area:
White Bird Battlefield
In the winter of 1877, non-treaty bands of Nez Perce were given an ultimatum by the U.S. government to enter a newly established reservation. The events that followed at White Bird sparked the famous Nez Perce War of 1877.
The White Bird Battlefield is located south of Grangeville on U.S. Highway 95. This is where the U.S. Army and volunteers were soundly defeated by Nez Perce warriors.
An interpretive shelter along the main highway provides a beautiful panorama of the park.
Heart of the Monster
The Nez Perce consider the sacred "Heart of the Monster" site as the place of all creation.
Located just east of Kamiah on U.S. Highway 12, visitors will find an interpretive shelter with audio station which explains the Nez Perce story.
Cottonwood Skirmishes Site
The Cottonwood Skirmishes Site is located two miles south of Cottonwood on U.S. Highway 95. The site includes information about the conflict in this area, including a marker of Army casualties. The site also details its connection to the Lewis and Clark Expedition of 1803-1806.
Clearwater Battlefield
An interpretive pullout for the Clearwater Battlefield is located on State Highway 13 approximately two miles south of Stites.
Here on July 12, General Howard met the non-treaty bands during the 1877 war but failed to subdue them. Still existing on the site are remains of stone rifle pits and barricades raised by the Nez Perce.
Nez Perce National Historical Park programs and facilities information information is online: www.nps.gov/nepe/ .