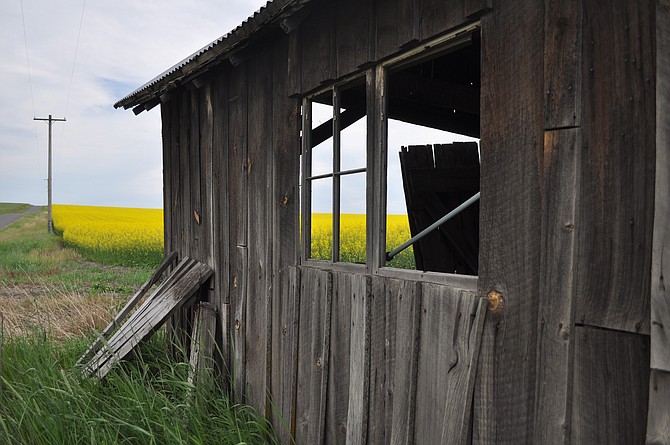 Idaho County
The famous Lewis and Clark expedition in 1805 found a struggle in the Bitterroot Mountains, near the present-day Montana state line. To the west, the Snake River carved the continent's deepest river gorge – Hells Canyon – which today separates Idaho County from Washington and Oregon. Within this vast region, the Snake, Salmon and Clearwater rivers and tributaries fostered the Nimi'ipuu, the Nez Perce people, in ancient times.
During the centuries since Lewis and Clark charted their route to Oregon, gold rushes and timber booms have brought modern industries and conveniences to the area. Established in 1864, Idaho County has shepherded a frontier spirit into the 21st Century. Within its boundaries are parts of a dozen national parks, forests and wilderness areas that together total more than 4.5 million acres of federal public land. Together, Idaho County's eight towns and 18 smaller communities are home to 16,000 people.
Grangeville
The Camas Prairie is one of the world's breadbaskets, and Grangeville, with roughly 3,200 people, is its most populous place. Grangeville's heritage as a tightly-knit agricultural community was written right into its name at the time of its founding.
During the 1870s, locals established the old Grange Hall to foster area grain-growers' ability to supply then-booming gold mining districts. Today, Grangeville is the seat of Idaho County government as well as a center of agricultural and timber industry located astride the junction of highways. State Highway 13 and U.S. Highway 95 connect Idaho County residents to each other and the 8,500-square mile county to civilization. Beyond the pavement lie wild public forests that harbor a wealth of recreation opportunity: trails suitable for motorcycles and snowmobiles, mountain bikes, horses and hikers, and beyond the trails, untamed wildernesses suitable for backcountry backpackers of proficient skill.
Services available in Grangeville include small-town amenities (restaurants and groceries, fuel, lodging and such) as well as commercial dealers (automotive, furniture, hardware, ag equipment) and public facilities (county courthouse, light aircraft airport, hospital, museum, library, swimming pool and ski hill). The historic movie theater is a destination year-round, and the drive-in is open during the summer.
Activities include:
-Border Days, July 1-4, Idaho's oldest rodeo; http://grangevilleborderdays.org
-Summer Concert Series, July-August; http://facebook.com/Grangeville-Arts-327100123219/
http://grangevilleidaho.com; (208)983-0460
Clearwater
Just a step off State Highway 13, this community was once the first stop on the wagon road from Stites to Elk City which supplied miners at the gold fields around Elk City. Today, Clearwater is home to the Elk City Wagon Road museum. A similar route through the deep woods is open to forest visitors during the summer, from which there are vistas of places ancient people considered sacred.
Activities include:
-Ground Hog Feed, held the first Sunday in February
-Elk City Wagon Road Days, held the third weekend in July
Cottonwood
Cottonwood is located on the western edge of the Camas Prairie at the foot of Cottonwood Butte. The town began as a stage stop for journeys into the mining communities of Florence, Warren and Elk City. It is now an agricultural hub with a population of 900. Services include a hospital, restaurants, groceries, banking, a micro-brewery, skiing, an off-road vehicle dealership, and retail shopping.
Activities include:
-Idaho County Fair, August 16-19; http://idahocountyfair.org
-Raspberry Festival, held the first Sunday in August, at the Monastery of St. Gertrude; http://myraspberryfestival.org
http://cottonwoodidaho.org; (208)962-3851
Elk City
Elk City is located about 60 miles east of Grangeville in the heart of the Nez Perce-Clearwater National Forest. The town has fuel, food, lodging and a small airstrip. Elk City offers a wide range of outdoors opportunities, such as hunting, fishing, horseback riding, gold prospecting and snowmobiling.
Activities include:
-Elk City Days, Aug. 11-13, a civic celebration held the second weekend each August.
Dixie
Located about 30 miles south of Elk City, Dixie is a center of outdoor recreation with services including automotive repair and an airfield, as well as food, lodging, groceries and fuel.
Ferdinand
Eight miles north of Cottonwood along U.S. Highway 95, Ferdinand has a post office, a full-service veterinarian, and a brewpub.
Kooskia
Kooskia rests in a river valley where the Clearwater River's main forks flow together. State Highway 13 parallels the South Fork Clearwater River to its junction with U.S. Highway 12 at the confluence, above which the federal highway follows the Middle Fork Clearwater River east toward Montana. Kooskia's major industry is timber. By virtue of its location, this town of 600 is a gateway to some of the most isolated country in the continental United States and a jumping-off point for all kinds of outdoor adventures, including camping and rafting. Services available in Kooskia include banking and hardware, as well as food, fuel and lodging.
Activities include:
-Taste of the Clearwater, January, a food and wine tasting
-Kooskia Days, August 6, a civic celebration
http://kooskia.com; (208)935-2290
Lowell and Syringa
Syringa, located on the Clearwater River, is named after the state flower. The community of Lowell is located at the confluence of the Lochsa and Selway rivers, where they form the Middle Fork of the Clearwater River. Services include fuel, seasonal restaurants and lodging.
Riggins
Among the Salmon River breaks in the shadow of the Seven Devils mountains, about an hour's drive south of Grangeville, Riggins (pop. 400) burgeons during the summer months as river users flood to the famous "River of No Return." Year-round services include fuel, restaurants, groceries, sporting goods, and an office of the Hells Canyon National Recreation Area.
Activities include:
-Women With Bait Fishing Tournament, February and March
-Salmon River Jet Boat Races, April; http://www.facebook.com/SalmonRiverJetBoatRaces
-Riggins Rodeo, May; http://rigginsrodeo.com
-Big Water Blowout River Festival, June; http://facebook.com/bwbrf
-Hot Summer Nights, July; http://www.rigginshotsummernights.com
-Salmon Run, a half-marathon, September; https://www.facebook.com/RigginsSalmonRun
-Farmers' Market, July through October
http://rigginsidaho.com; (208)628-3320
Stites
Stites is located along the South Fork of the Clearwater River, south of Kooskia, on State Highway 13. Services include gas, groceries, dining and hardware.
Activities include:
-Stites Days, a civic celebration in July.
White Bird
White Bird is a creek-bottom community east of the Salmon River, located in a culdesac below the towering grade where U.S. Highway 95 climbs up and over the hills that define the Camas Prairie's southern boundary. The community is home to a historical site – a battlefield of the Nez Perce War – as well as services such as dining, lodging, RV parking, fuel, antiques and gifts.
Activities include:
-Fireman's Ball, each February
-Joe Wilson's St. Patty's Day Sausage Breakfast, each March
-White Bird Days, a civic celebration each Father's Day Weekend
-White Bird Rodeo, June 16-17; http://www.whitebirdrodeo.com
-Rebecca's Annual Turkey Dinner & Bingo, the Sunday before Thanksgiving
http://visitwhitebird.com; (208)839-2777