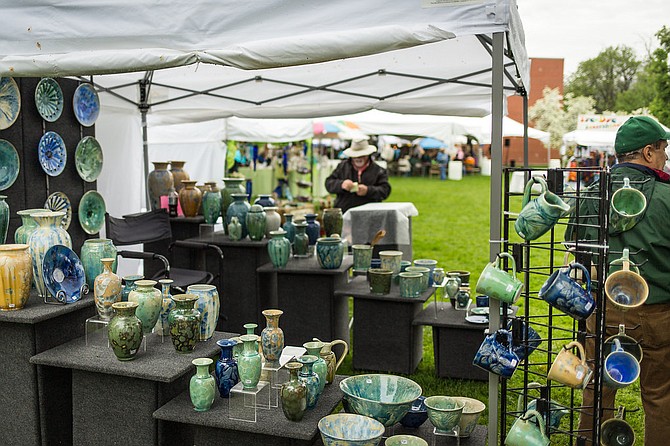 Residents and tourists alike can sample the lifestyles and heritages of the people of North Central Idaho by visiting numerous festivals, pow-wows and other attractions.
Plan a day-trip or a weekend stay.
Idaho County
The annual Raspberry Festival is a fund-raiser for the Historical Museum at St. Gertrude. Held on the scenic grounds of the Monastery of St. Gertrude in Cottonwood, the event attracts more than 3,000 visitors to eat and shop for unique, handmade crafts and gifts. The sisters also offer regular tours of the ornately designed and hand-crafted chapel and the historic museum.
The event takes place the first Sunday in August every year. The one-day event features a children's carnival, art show, arts and crafts fair, car show, vintage sale and a Fun Run & Walk. Start your day early with a pancake breakfast and bring money for the grilled hamburgers, BBQ beef sandwiches, raspberry shortcake, jam and wine.
The Salmon River Fall Art Show is a juried art show that takes place the first weekend of October in Riggins. The event draws entries from Idaho, Washington and eastern Oregon.
Artwork is submitted in a range of mediums, including photography, painting, pastels, antler carvings and sculpture.
Clearwater County
Clearwater County has developed an annual event celebrating the history of the region. The Camas Festival in Weippe allows visitors an opportunity to visit the area where Lewis and Clark originally met the Nez Perce.
The day and a half festival takes place in mid-May and includes food and entertainment on Friday and a mix of events on Saturday. Activities include a Dutch oven cook-off, a Dutch oven dinner, a Haw Hee Show, a Fun Run/Walk, breakfast, music in the park, exhibits and displays, craft and food vendors, a silent auction and a horseshoe tournament.
Visit www.weippe.com/events/May or call 435-4362 for more information.
Lewis County
Every year, bluegrass musicians travel to Kamiah for picking and singing as part of the Idaho Sawtooth Bluegrass Assocation's Spring Jam. Held annually, typically in mid-May, at the Lewis-Clark Resort, the event offers visitors an opportunity to listen to what is commonly called American roots music.
This year's event will be June 1-4 and will include the ISBA board meeting, a vocal harmony workshop, open mic time, jam session, children's performances, concerts and a gospel hour.
For motel, RV or camping reservations call 935-2556 or log onto www.lewisclarkresort.com. Visit www.idahosawtoothbluegrass.org.
Another popular event in Kamiah, the Chief Lookingglass Powwow takes place the third weekend in August. Native American dancers, drummers and vendors travel from numerous states to participate with family and friends and share their many tribal traditions.
Visitors from across the region gather at the grounds of the Wa-a'Yas Community Center to witness brilliantly colored regalia, memorials and name-giving ceremonies. Other activities include a friendship dinner, huckleberry pancake breakfast, fry-bread contest, basketball competition and a parade.
And bring an appetite, as plenty of food vendors will be on site as well. Look for details on the Chief Looking Glass PowWow Facebook page as well as on the Kamiah Chamber of Commerce Facebook page or web site (www.kamiahchamber.com).
Aside from the Chief Lookingglass Powwow, there are several other similar events where Native Americans gather to renew their culture and preserve their rich heritage. Check the county schedules for more complete listings of events.
Nez Perce County
The Dogwood Festival is an annual celebration of arts, culture and community in the Lewis-Clark Valley. A variety of events are scheduled throughout the month of April.
Included are the Stephen Lyman Memorial Children's Art Exibit, Lewis Clark Recyclers "Earth Day events, Lewiston All-Breed Dog Show, a grape and grain confluence, river run, car show, quilt festival and Art Under the Elms.
Art Under the Elms features more than 100 art vendors, a food court and live entertainment highlighting regionals musicians and performance artists. The food court offers dishes from vendors throughout the northwest region. Children can create their own art with instruction from local artists or visit the Dogwood Fairies tent and build a fairy garden.