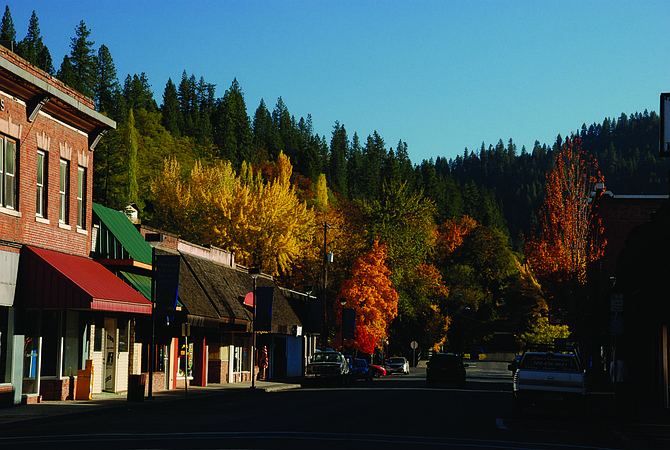 In 1805, Lewis and Clark followed an old Indian trail between the north and middle forks of the Clearwater River and met the Nez Perce Tribe near the present site of Weippe. Gold was first discovered by E. D. Pierce in 1860 and shortly after formed Pierce City that is the oldest mining town in Idaho. The county is named for the Clearwater River whose name was translated from the Nez Perce term Koos-Koos-Kai-Kai, describing clear water.
Incorporated cities within Clearwater County include Elk River, Orofino, Pierce and Weippe.
Multiple unincorporated communities exist within the richly forested hills and plains including Ahsahka, Cardiff, Cavendish, Dent, Grangemont, Greer, Headquarters, Hollywood, Judge Town, Konkolville, Moose City and Teakean.
Elk River
Elk River is a gateway to the region's outdoor recreation activities including snowmobiling and snowshoeing, ATV riding, hunting and fishing. The community is accessed off State Highway 8 from Bovill.
Activities include:
-Elk River Annual Spring Fishing Derby, May 13
-SLORA Jet Boat Races on Elk Creek Reservoir, May 27-28
-ATV/UTV & Cycle Fun Run, May 20
-Elk River ATV Drag Races, June 17
-"Thunder in the Mountains" Fireworks Show, July 1
-Elk River Rec District ATV & Motorbike Endurocourse, July 22
-Elk River Days, Aug. 11-12
-Elk River Classic Car Show, Aug. 12
-Elk River Rec District Fun in the Mud, Mud Bog Competition, Sept. 2
Orofino
Orofino (in Spanish: fine gold) is the county seat, named from a gold mining camp established in 1861 two miles south of Pierce. Orofino is situated five miles from "Canoe Camp" where the Lewis and Clark Expedition built five dugout canoes to travel downstream to the Pacific Ocean in 1805. The community is four miles north of Dworshak Dam, the third highest in the U.S., completed in the early 1970s.
The communities sits alongside U.S. Highway 12, along the Clearwater River, that connects to Lewiston and Missoula, Mont., part of the National Scenic Byway system named the "Northwest Passage Scenic Byway."
Activities include:
-Rotary Crab Feed, January
-The Maniac "The Best Dam Race in Idaho," June 11
-Year-long golfing events, Orofino Golf Course & Country Club; www.orofinogolf.com
-Clearwater County Fair and Orofino Lumberjack Days, mid-September; http://orofinolumberjackdays.org/
-Annual Christmas Festival, Light Parade and Tree Lighting, December
http://www.orofino.com/
Pierce
The discovery of gold – the first in the state -- drove settlers to Pierce that began the rush that soon moved across the region. Pierce is located on State Highway 11 northeast of Weippe. In recreation, the region offers access to hunting, fishing, hiking, ATV trails, downhill and cross-country skiing, snowmobiling and camping. Bald Mountain Ski Area is 11 miles northwest of Pierce.
Activities include:
-Pierce Winter Festival, February
-Annual Deer Creek Fishing Derby, Deer Creek Reservoir, June
-Annual 1860 Days, last week in July
-Annual Holiday Bazaar, November
-Annual Festival of Trees, December
http://www.pierce-weippechamber.com/
Weippe
Weippe is located on State Highway 11, on the Gold Rush Historic Byway, and is part of the National Lewis and Clark Historic Trail. The region is known for its connection to this historic expedition as where – on the Weippe Prairie -- the explorers had their first contact with the Nez Perce Tribe.
Among the notable areas in the region include the Weippe Prairie, known for its annual rich bloom of camas flowers; as well as the Lewis and Clark Interpretive Center at the Weippe Discovery Center, containing historic murals and displays.
Activities include:
-Annual Camas Festival, May 27
-Annual Wild Weippe Rodeo, August
http://www.pierce-weippechamber.com/