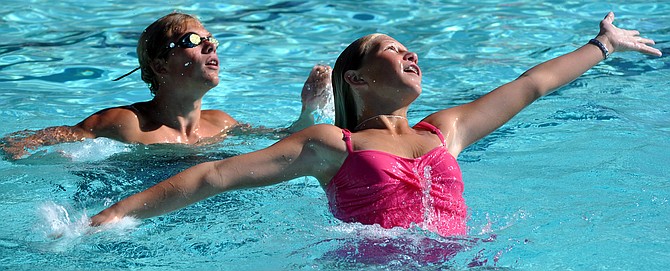 Photo by David Rauzi
Swimmers in the pool during the summer 2016 season.
GRANGEVILLE — The summer swimming season begins next week with the annual opening of the Grangeville city pool.
Swimmers are treated with the traditional free swim day: Saturday, June 3, 1-5 p.m. The city will run reduced hours for the first two weeks, operating through 4:40 p.m. Monday through Friday, with no evening or general swim.
"We look forward to having all swimmers, regardless of age, join us for another great season!" said city clerk Tonya Kennedy.
The 2017 clip-out schedule is available in this week's Idaho County Free Press and The Shopper, as well as online —- www.grangeville.us – and posted at the pool. Updates are also posted on the city's Facebook page.
This year, the city is offering 10 scholarships for swimming lessons — first-come, first-served — for those in financial need. Applications are available at city hall. The ability to offer scholarships was due to graduating Grangeville High School senior McKenzie Kennedy. As part of Kennedy's senior project, she taught out-of-season swim lessons last fall, proceeds from which were donated to the city for scholarships.
First session of swim lessons is June 5-16; cost is $25. For this first session only, sign up through city hall, 983-2851. For subsequent sessions, sign up at the pool, 983-0935. Five sessions are offered, with the last July 31 to Aug. 11. Session three is dedicated to Center for Discovery from Cottonwood, with any remaining spots available to the general public.