Damages incurred to county and municipal infrastructure due to spring flooding events may be eligible for federal funds that were released last week due to a presidential disaster declaration for eight northern Idaho counties.
A timetable for repair and/or mitigation work to begin is pending a review process by state and federal agencies.
Estimated damages exceed $9.6 million total for Bonner, Boundary, Clearwater, Idaho, Kootenai, Latah, Shoshone and Valley counties, according to the Idaho Governor's Office, due to flooding events that occurred March 6-28. President Donald J. Trump's May 18 declaration makes funds available for communities to repair or replace disaster-damaged public infrastructure and for mitigation efforts.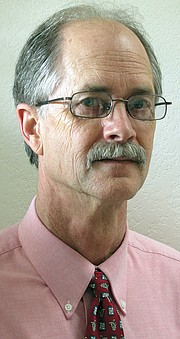 According to Jerry Zumalt, coordinator, Idaho County Disaster Management Office, estimates exceed $3 million for local road and infrastructure damage. The Idaho County Road Department has 10 sites for which repair funding is being sought through this declaration process.
"Depending on site acceptance and engineering design," he said, "it is estimated that these 10 sites will cost approximately $2.2 million to restore to pre-event condition, or permanently repair."
Among these 10 sites are washout areas on the Cedar Creek and Big Cedar roads outside Kooskia, and substructure problems on the Cove Road at Grangeville. According to Zumalt, Cedar Creek is closed due to extensive slide and collapse damages, and emergency temporary repairs are not feasible; Cove and Big Cedar are open to traffic.
The remaining sites – all currently open to traffic despite needed repairs – are on Lukes Gulch, Adams Grade, Woodland Road, Fort Misery, Cottonwood Creek Road and Maxwell Lane (Elk City township).
"Additional damage sites exist," Zumalt continued, "but some may fall outside of the incident period. Others may not be eligible because the site may be deemed private, or may be categorized under a different administrative authority; i.e., federal highway administration system road inventory."
Also having suffered significant damage during the March 6-28 time frame were water collection and water treatment facilities for the cities of Kooskia and Stites, he said. Both are applicants for permanent repair assistance through this declaration.
"Engineering analysis and design is expected to be a component of each project, if found eligible," he said, "and the total combined cost estimates currently exceed $1 million."
When shovels would actually hit the ground on these projects is pending on what Zumalt described as a "time consuming and exacting administrative process."
Following an initial meeting with state and federal agency officials, possibly late this week, Zumalt said, it will be a process of follow-up site visits and then development of project worksheets detailing information from the scope of work and cost estimates to required permits and engineering design. Once developed and agreed to, contracts and requests for proposals would be written and advertised.
Last week's announcement adds on to the total 19 counties under presidential disaster declaration. Eleven southern Idaho counties were declared due to damages from severe winter storms and related flooding from Feb. 3 to March 3. Overall, according to the Idaho Emergency Operations Center (IDEOC), 31 of Idaho's 44 counties have state or local disaster declarations.