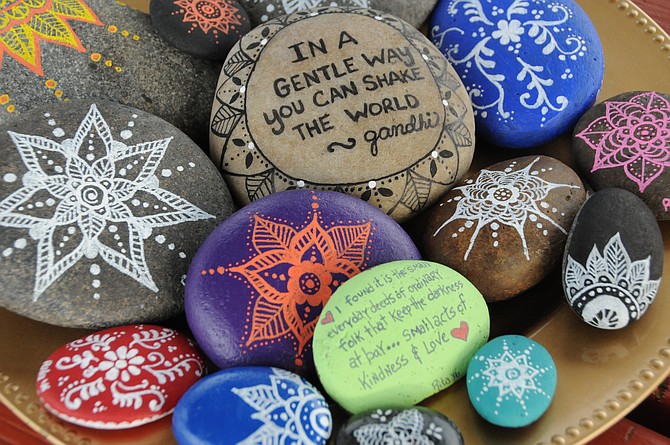 It's been described as a year-long Easter egg hunt; the search or surprise finding of painted rocks hidden in plain sight in communities across the region. It's a fad that has quickly spread nationwide as a fun activity that is easy to get involved in doing, whether as an artist or as a seeker.
How simple is this? People collect palm-sized stones, usually river rock works best, and then paint these in vibrant colors for people to find. Some are simply painted, while others have pictures of whimsy or relate to a personal cause. These are then hidden in locations that, while out of the way, are noticeable enough so people will come across them. Those finding the rocks can take photos of these, or a selfie with them and the rock, and post these to social media sites. They can then replace the rock or hide it someplace else, or replace it with one they've found.
Within the North Central Idaho region, several personal and organized paint-and-find-rock pages are open to the public on Facebook. These include LC Valley Rocks, Camas Prairie Rocks and Rita's Rocks, just to name a few.
Those painting rocks have described it as therapeutic, an artistic outlet that helps express an enjoyment for nature and community, a way to promote social causes, or as tributes to friends and loved ones who have passed on. Some have put these to charitable use, with donors paying a dollar for a painted rock to be hidden, and proceeds go toward a cause such as the local food bank or American Red Cross.
Painting rocks to hide can also be a fun family activity with all joining to find paintable rocks, to sit around the table and paint them together and feed off each other's ideas for pictures, designs or perhaps inspirational quotes or prayers.
Thinking about getting involved? Several websites and blogs have tips to get you started. Keep in mind to clean your stones before painting, applying a primer beforehand and then using acrylic paints for the artwork. Test how Sharpies work with paints and sealers to avoid smearing mistakes. Bases may also be added to ensure your stone stands upright to best display what you've painted.
Some people will only choose to create and hide, while others will participate in it all; painting, hiding, and finding. If you find a rock, you can either re-hide it or keep it. Lots of people choose to keep their first rock and then re-hide the rest.