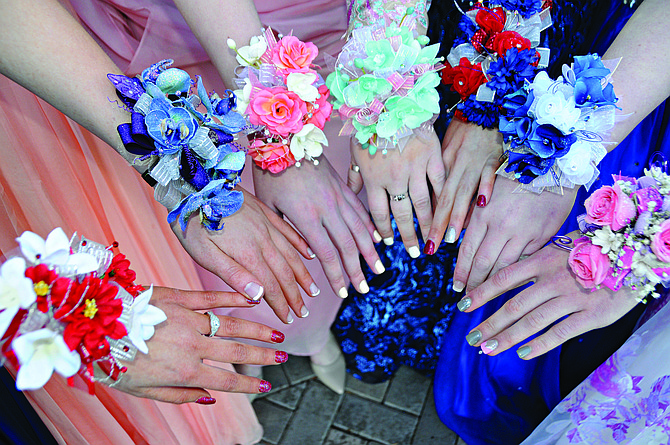 Photo by Lorie Palmer
The above wrist corsages were made by Grangeville Flower Shop's Nancy Thompson and Charlene Madden. Each was unique and matched girls' and boys' outfits for the Grangeville High School prom 2017. They are made of silk and other forever materials that provide lasting memories. Thanks, Nancy and Charlene, for all your work and effort to make each corsage unique and beautiful!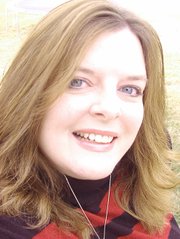 At the Syringa Hospital May 23 board meeting, trustee Twila Hornbeck publicly thanked the local EMTs and EMS workers.
"I really want to acknowledge all the time they put in and the hard work they do to save so many lives," Hornbeck said. "This whole board appreciates them and all they do."
•
Camas Prairie Eye Clinic will host an open house and trunk show Friday, June 2, 2-7 p.m., at their new digs at 405 East Main Street in Grangeville. Stop by for a visit and appetizers, door prizes and desserts. Visit with Dr. Jill Lane and the staff. Call 983-3732; visit www.camaseyes.com.
•
Kamiah's Palenque Mexican Restaurant is under new management. Grab the coupon from last week's Shopper for $3 off any entrée.
•
Did you notice the greenhouse that used to be at King's is now at Grangeville Builders? Stop in and see what they have; and if you haven't been inside in a while, stop in and see Jody at the front desk or Ken or any of the crew there. The place was remodeled just more than a year ago and has a nice, friendly feel.
•
You may have noticed the digging going on behind the Free Press and Potlatch No. 1 Federal Credit Union, out across from Zip Trip. As I understand it, that's a new coffee shop going in. More details as this project evolves.
•
I met someone at Subway last week who was traveling with their pets from Montana and told me what wonderful, friendly service they got at GreenAcres Nursery in Grangeville. That is always wonderful to hear – and I saw they were loaded down with pet treats and food and some planting soil, too.
•
Did you know Asker's Harvest Foods carries a cool case of flowers that are from Grangeville Flower Shop? If you need convenient one-stop shopping, or something on a weekend, stop there and see what they have to offer while you're picking up your groceries!
•
A yard sale to benefit the Animal Rescue Foundation (ARF) is planned for Saturday, June 10, at 408 North A Street in Grangeville from 7 a.m.-2 p.m. While this will be a personal yard sale for a couple of different families involved, there will be a special event hosted by the Cottonwood Riding Club royalty. This baked food and plant sale will benefit ARF.
•
The fourth annual Long Camp Classics on the Clearwater car show and swap meet is set for Saturday, June 3, 8 a.m. to 3 p.m.
This event is a benefit for the Kamiah Emergency Feeding Outreach Program. To attend, cash donations or four canned goods are appreciated. Show cars can enter for $10 each and vendor space is also available for $10 a space. Call Chris of Connie at 935-7922. Prizes for Peoples' Choice, Judges' Choice and Best Driveable Project Car will be awarded.
Long Camp RV is located one mile east of the Kamiah Bridge at milepost 68 on U.S. Highway 12.
•
Have you wondered what type of home business you may like to have?
A home business fair is set for Saturday, June 3, noon to 4 p.m., at the Idaho County Veterans Community Outreach Center in Grangeville.
Stop by and visit with representatives from more than a dozen different companies and learn what business opportunities may benefit you or just make contact with a rep about the great products they are offering.
•
Have you stopped by Leanne's Flower Shop and Garden Center on the Truck Route on the edge of Grangeville lately? If you do, you will not only see some beautiful plants and gorgeous flowers, but also the friendly face of Amanda Wolfinger Robinson who is helping out at the shop this summer. Preschool ended (Noah's Ark, where she is a teacher) and she carried her smile and kindness right over to Leanne's!
•
This exciting news just in from Gloria Taylor, who heads the Save the Old Opera House (Kooskia) Committee: "The owners of the Opera House have granted the committee a three-month extension on our buy-sell agreement as we have been gaining momentum and people are starting to respond by donating or purchasing shares. This also gives us more time to organize fund-raisers.
The other great news is that Freedom Northwest Credit Union has stepped in to assist and has offered a challenge to us and you: They will match the next 50 shares sold! They feel that if the surrounding area really wants this to be a success, that they will show their support and the credit union will match them! Donation and share forms can be picked up at either Freedom Northwest branch or e-mailed to you by contacting lanefamily1988@gmail.com. Stock purchases or donations can be made at Freedom Northwest Credit Union under Old Opera House Inc. in account No. 21133 or sent to Gloria Taylor at 177 Lee Road, Harpster, ID 83552. Be sure to fill out the form!
So, where are we? Checks for shares are coming in daily. The board of directors is now activated and with them comes additional staffing power! We hope that you have visited our Facebook page, Kooskia Opera House and 'liked' it. In addition, there is a Go-Fund-Me set up. Check it out!"