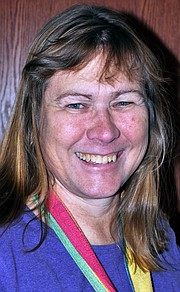 No column for me last week as I was traveling in the Black Hills of South Dakota with my sister. It gave me a patriotic feeling to walk around Mt. Rushmore, through the Avenue of the Flags (featuring all of the state flags). Seeing the carved faces of four of our early presidents carved eloquently in stone reminded me of the enduring nature of our country. I met people from many states and other countries. For the last few weeks, people have weighed in on patriotism based on whether NFL football players stand or kneel for the pre-game national anthem. For me the flag and the anthem are not an end to themselves but a symbol of our country's values. It's about how we treat other people and welcome other into our communities and our respect for other people's first amendment rights.
There are so many examples of people in our Clearwater valley communities working for a greater community good. The Upriver Youth Leadership Council (UYLC) competed successfully for a five-year Drug Free Communities Grant of $625,000. Their mission is simple to provide a healthy community for our youth. This organization includes students, teachers, health care professionals, tribal members and other community leaders. For more information you can e-mail upriverlc@gmail.com.
The Kamiah Volunteer fire and EMS departments provide an incredible service to the community. In order to expand the number of qualified Emergency Medical Technicians (EMTs) in the Kamiah area, they are offering a basic EMT class this winter from November through March. People who are interested or want more information are invited to a "meet and greet" meeting on Thursday, Oct. 5, at 6 p.m., at the Kamiah Fire department at 515 Main Street in Kamiah. Call Tyson at 208-935-8250 for information about the training.
Great to hear that the CV-Kamiah high school cross country team successfully hosted their first cross country running meet in many years, hosting six other teams. Janna Privette coaches the combined team which allows them to have enough runners to compete as a team in both girls and boys divisions. Better still local runners Melanie Gianopulos and Michael MacMenamin won the girls and boys divisions respectively. It's a tough sport, requiring sustained effort, but we have some strong runners with both girls and boys' teams placing third. Congratulations to Coach Privette and her team for pulling off this race.
The welcome rain and cooler temperatures feel like fall. Chili and cornbread sound like a good autumn meal. Head up to the Clearwater Grange on Saturday, Oct. 14, from 4:30-7 p.m., for the sixth annual Clearwater chili feed. Dinner is by donation and is a fund-raiser for the Clearwater Grange. They are looking for food donations, if you feel like cooking chili or baking cornbread or desserts, call Carol Bonanno at 208-926-7465. A silent auction will take place during dinner. I've been impressed with the other Clearwater events- the Groundhog Day breakfast and the Elk City Wagon Road Days. People in this little community pull together to make these events happen.