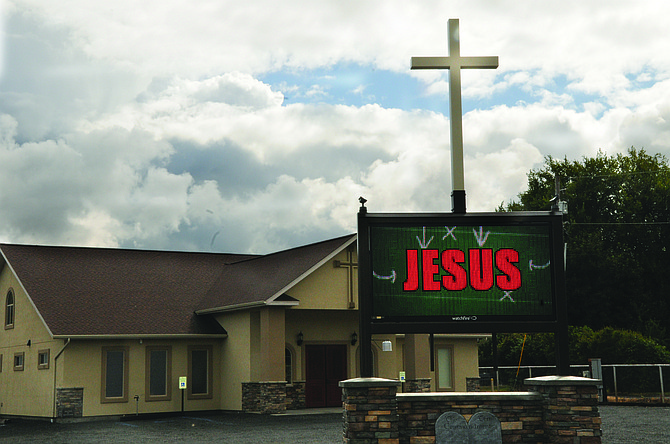 Prayer meeting set for Oct. 14 at Soltman Center
GRANGEVILLE – A prayer meeting will be held at the Soltman Center (across Main Street from the hospital) in Grangeville at 9 a.m. on Saturday, Oct. 14. All are welcome.
St. Catherine's Altar Society bake, rummage sale set for Oct. 6, 7
KAMIAH — Saint Catherine's Altar Society is sponsoring a rummage and baked food sale Friday, Oct. 6, from 9 a.m. to 4 p.m., and again on Saturday, Oct. 7, from 9 a.m. to noon. Saturday is $2 a bag day, fill bags and only pay $2 each.
The sale is located in the Saint Catherine's parish hall, 7th and Idaho, Kamiah.
Encouragers luncheon set for Oct. 5
GRANGEVILLE — Mardell Casteel of Grangeville will speak at an 11:30 a.m. luncheon Thursday, Oct. 5, at The Gallery.
Casteel said she was reared in a dysfunctional family, but her life was revolutionized when she accepted Jesus Christ. He brought good from her past by giving her compassion for hurting people, especially abused women, and has used her to help many of them.
Casteel, and husband, George, pastor Abundant Life Fellowship in Grangeville. She is the mother of two daughters and a son, and has 10 grandchildren.
The monthly no-host luncheon will be at 107 W. North Street, and is open to all.
'Thumbs Up For Him' conference set for The Life Center
KAMIAH — Are you ready for a new and fresh experience with God? Come to The Life Center in Kamiah Oct. 6 and 7 to experience "Your Story through His Story!"
Chapter 1 begins Friday night at 6:30 p.m., followed by chapter 2 Saturday morning at 9 a.m. with intermission and lunch at 11:30 (lunch will be potluck finger foods and salads). Chapter 3 begins at 12:30 p.m.
Everyone is welcome. Men, women, young and old. This is a free event and love offerings will be received to cover expenses.
Music will be led by Lisa Bomley. For information contact Lois Lineberry at 508-758-3767 or 208-935-0118 or e-mail her at loislineberry@msn.com.
The Life Center is located at 4432 Highway 12 between Kamiah and Kooskia on U.S. Highway 12.
Monastery art challenge ongoing through Nov. 5
COTTONWOOD — The Spirituality and the Arts program at the Monastery of St. Gertrude recently announced an upcoming art challenge and call for art focusing on the Magnificat or Song of Mary.
Any and all are invited to create something inspired by Mary's response to the angel Gabriel (Luke 1:46-55) in any medium (if it involves performance or music, the length would be 10-15 minutes).
To learn more and accept the challenge or for questions e-mail creative@stgertrudes.org or call 208-962-5065.