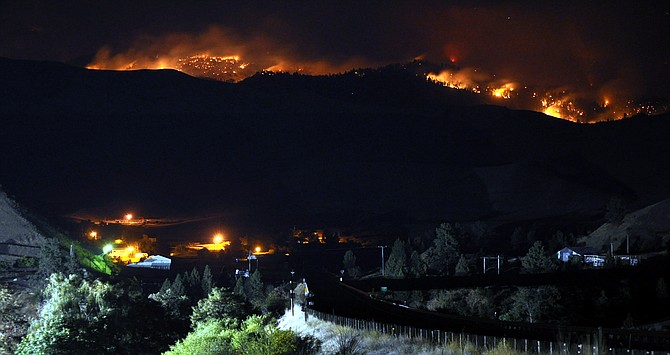 Photo by David Rauzi
The Sheep Fire burns in the background of a fire camp set up at Twin Bridges south of White Bird, Sept. 10, 2012.
Federal prosecutors are seeking more than $17 million in damages and related costs from two Idaho County businesses for alleged negligence resulting in the 2012 Sheep Fire at Lucile.
The eight-page civil complaint was filed Sept. 19 in U.S. District Court for the District of Idaho, against Idaho County Light and Power Cooperative (ICLP) Association, Inc., and Gary and Carolyn Hegvet dba The Ice Man. No court or trial dates have yet been set.
The suit revolves around the Sheep Fire, which started Sept. 6, 2012, at Lucile and during nearly a two-month period burned approximately 49,592 acres, of which 43,206 was federally owned land.
According to the complaint, cause of the fire was the failure of a jumper cable between two of the service drop transformers at the Hegvets' commercial ice plant. The failure caused the jumper cable to spark, burn and discharge a piece of molten hot wire into combustible material at the base of an ICLP power pole.
The suit alleges negligence by the defendants resulting in the fire: for ICLP, negligent design, installation and maintenance of electrical equipment; and the Hegvets for negligent use and maintenance of ICLP's electrical service.
As a result of the fire, the federal government in its complaint stated it incurred $17,690,293.51 in damages, consisting mostly in fire suppression costs ($15,760,177.19), along with Burned Area Emergency Rehabilitation (BAER)/resource damage ($1,583,116.32) and rehabilitation ($347,000). The suit seeks from the defendants more than $17.592 million in damages, along with continuing interest and penalties, and associated attorneys' fees and costs.
ICLP is insured by Federated Insurance. According to a November 2012 Free Press story on ICLP's annual membership meeting, President Ernie Robinson discussed that year's incident with members, stating if the co-op were found responsible, its insurance company would cover up to the limits of the liability coverage for any legal expenses or claims determined by the court.
No comment was available as of press time from ICLP's attorney in this matter, Scott Cifrese of Paine Hamblen LLP of Spokane, representing Federated Insurance.