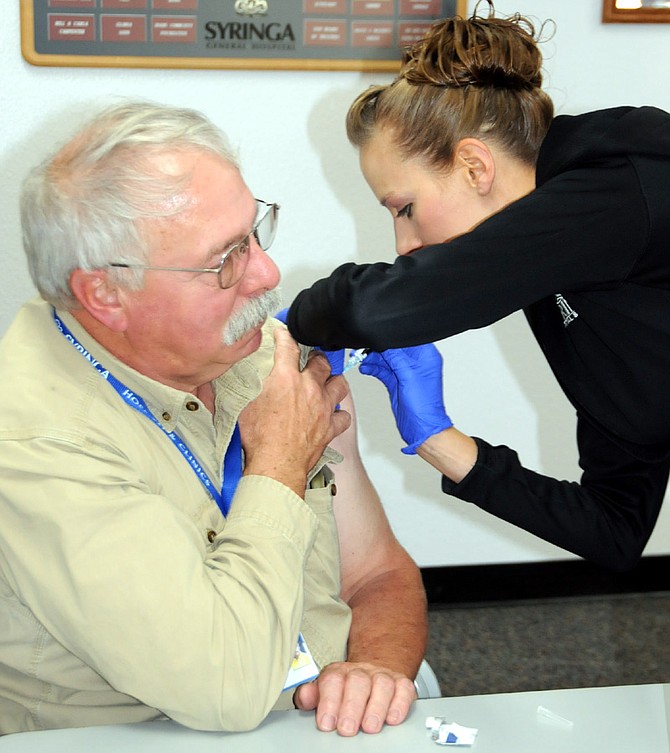 Photo by Lorie Palmer
Syringa Hospital Board Vice-President Steve Didier of Kooskia receives his flu shot from Syringa RN Jessica Long following the trustee meeting Sept. 26.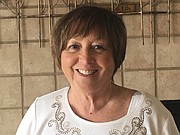 COTTONWOOD — "We recently had a good, in-depth discussion with our employees regarding [influenza] vaccines," said Syringa Hospital director of quality and risk management Lauren Wilson.
Wilson addressed the board of trustees at the Sept. 26 meeting.
"This year, our decision was to strongly encourage the vaccine [to our employees]. Those who do not choose to have the vaccine will be required to wear a mask in patient areas," she said.
Wilson went on to explain all employees who have the inoculation will have a small, red dot placed on his or her name tag. If a dot is not present, others are empowered to ask, "'Where's your mask?'" Wilson explained.
She said the hospital is working toward organization-wide vaccines next year.
"I am deeply concerned now, and I was when I first came on the board earlier this year and saw the number of our employees who actually get the flu shot – just 33 percent," stated board secretary Leta Strauss.
Strauss said she has a suppressed immune system due to rheumatoid arthritis.
"It's a very emotional subject to me that health care workers would not feel they have an obligation to be vaccinated," she emphasized. "This is a critical issue to me."
Wilson said Kootenai Health has made to a requirement for its employees to be fully vaccinated, so, with the affiliation agreement between them and Syringa, it would be a good place to start and see how this rule implementation has worked for them.
"Sometimes we have to make the hard decisions – perhaps if health care workers do not want to participate, then this is not the right fit for them," Strauss said, adding her brother died of a respiratory infection at the age of 50. "This is a big deal."
Strauss said she would be willing to incentivize this, but definitely feels it is "part of our mission and how we keep the community healthy," to address it.
She added she understands a segment of the population is exempt due to allergies or pregnancy.
Katy Eimers, human resources, said it is policy that if employees are not vaccinated against something and an outbreak occurs, they cannot work.
For example, is an employee is not vaccinated against measles and there happened to be an outbreak, that employee would not be eligible to work until the outbreak was over.
Strauss said she would like to revisit the issue later, she said, and see what percentage of employees have the vaccination following the education they have received.
After the board meeting, clinics director Michelle Schaeffer arranged for flu shots to be brought to Soltman Center from the clinic and be given to any board member who wished to have the vaccine. At least six members chose to do so.
Vaccines for the flu are currently available at the clinic. Call 983-8590.