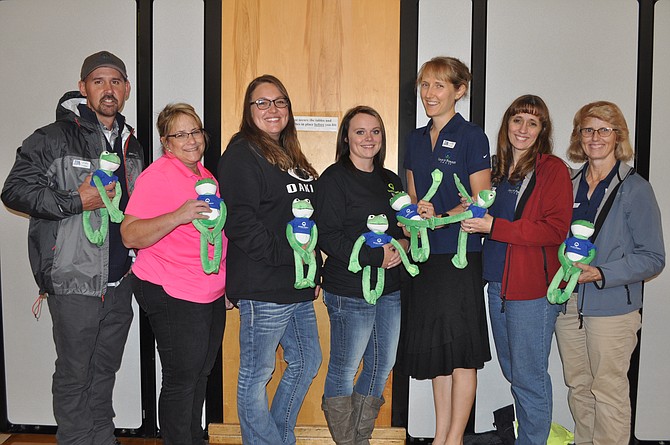 Photo by David Rauzi
IFG Supports 'Reading Buddies' Program: Grangeville Elementary Middle School kicked off its third annual Reading Buddies program last Thursday, Sept. 21. The reading incentive program is geared toward kindergarten to first-grade GEMS students, providing various levels of fun activities with a stuffed animal for the numbers of books read. Idaho Forest Group (IFG) Grangeville has sponsored the project each year, providing Reading Buddies stuffed animals for students at GEMS and also Sts. Peter and Paul School. This year, more than 180 were purchased for the program. Pictured at the Sept. 21 GEMS presentation were IFG employees (L-R) Adam Miller, Laurie Eckert, Meagan Bashaw, Heidi Shafer, Tracy Gilmore and Sheryl Workman.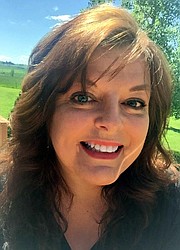 The public is invited to join Syringa Hospital and Clinics staff for a brown bag presentation Dr. Danny Griffis.
This is set for Wednesday, Oct. 18, 12:15 to 12:45 p.m., at the Soltman Center. Dr. Griffis will talk about "Preparing for outdoor activities – preventing, recognizing, and treating hypothermia."
•
Mark your calendars: Grangeville's Sunrise Espresso's grand opening is set for Friday, Oct. 13.
Inland Cellular will be host to the event from 9 to 11 a.m. Anyone who stops in will receive a free 16-ounce drink.
From 11 a.m. to closing, anyone stopping in and purchasing a drink will get a double stamp on their card (10 punches equal a free drink).
•
Irwin Drug has disposable med sets for ease of use and travel. These are just $1.50 a week to set up. Call 983-1090.
•
Nez Perce-Clearwater National Forests offices will be closed Monday, Oct. 9, in observance of Columbus Day. Regular office hours will resume Tuesday, Oct. 10.
•
Thanks so much to the Oktoberfest committee and all the volunteers who helped make the weekend so much fun!