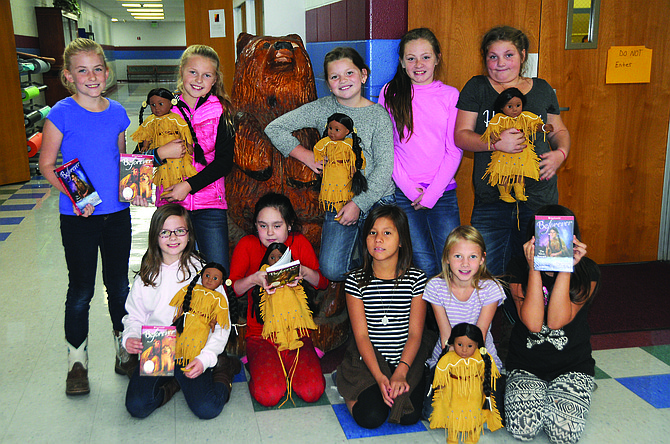 Photo by Lorie Palmer
Kamiah Middle School fourth graders were surprised with an American Girl doll Kaya recently in Lapwai.
KAMIAH — It's a great time to be a fourth grader. Just ask a group of girls from Kamiah Middle School.
"It was pretty exciting," said 9-year-old Emily Puckett.
"I couldn't believe it at first," added Emma Krogh, also 9.
The duo was among the fourth-grade girls from Lapwai, Kamiah, Orofino, Culdesac and Kooskia who were recently treated to a field trip to Lapwai to celebrate the 15th anniversary of the Nez Perce American Girl Doll, Kaya.
"They gave us dolls," smiled 9-year-old Brynnlie Thornes.
"She has braids and boots –see?" showed Kameil Doney, 9.
"We read books about Kaya first," added Allison Breedan, 9.
"In groups, and then got the dolls later," 9-year-old Cesalli Steffi said.
"I like the doll, but the books are my favorite," said 9-year-old Dulce Alegria Smith.
The girls' classrooms are home to the six book sets on Kaya. In addition, each doll came with one book.
Kaya is a fictional Nez Perce girl whose story is told in the pages of the books and whose likeness is personified in the 18-inch-tall dolls manufactured by American Girl through the Mattel corporation.
Members of the tribe spoke to the group of girls, relaying Nez Perce language, customs and history.
"We learned about their culture," said Brianna Wallace, 9.
"And appaloosas, which were very important horses to the Nez Perce," added Puckett.
10-year-old Ariel Thompson smiled as she showed her doll's outfit, complete with beading.
"They're pretty special," agreed Sarah Woodford, 9.
In all, more than 60 fourth-graders joined in a Kaya read-a-thon prior to being given the dolls which were donated to the Nez Perce Tribe by American Girl. Dolls retail for $115 apiece.
Fourth grade is the year Idaho student study Idaho State history extensively. Nez Perce culture is among the subjects they review.