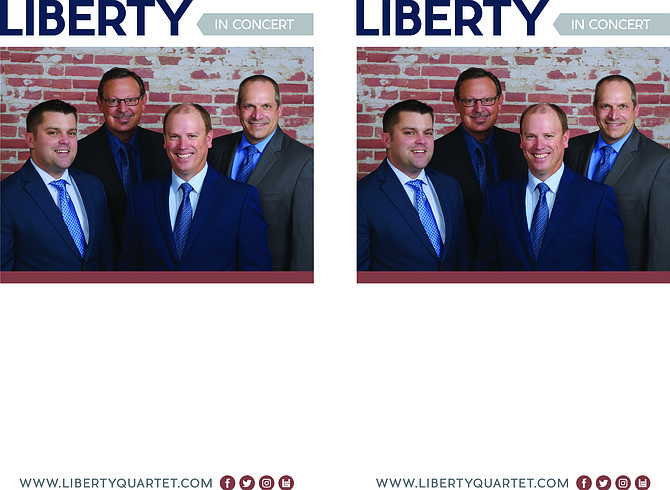 GRANGEVILLE — Liberty Quartet will play at the Grangeville Church of the Nazarene Friday, Oct. 13, at 7 p.m.. This will be followed by a pie social. Bring a pie if you can; admission is free. There will be an offering taken. Everyone welcome.
Liberty is a Gospel group out of Boise with a full-time concert schedule. The members of Liberty are Royce Mitchell, bass; Paul W. Ellis, lead; Derek Simonis, baritone; and Philip Batton, tenor. Liberty travels many miles each year, ministering in performances for church services, nursing homes, prisons, and other ministries. They also sing at large conventions including Southwest Gospel Music Festival, Great Western Fan Festival, and the Gospel Music Fan Festival in Canada.
Saturday, Oct. 14, the women's ministries group, God's Girls, will meet at 10 a.m. at the church for brunch and activities. Ladies Bible study meets Thursdays, 9 to 11 a.m. at the church.
In other church news, there will be a deputation Sunday, Oct. 22, during the 9 a.m. service. Missionary Grace Shelby from Zambia will share. A potluck will be held at 12:30 p.m.
A harvest party is set for Tuesday, Oct. 31, 4:30-7:30 p.m. Games, booths, food and candy.
Men's breakfast is held the first Saturday of each month at the church. Call Cory at 208-983-8079. Men's Bible study meets Thursdays, 4 p.m., Crema Café.
Looking ahead, the community Thanksgiving dinner is set for Sunday, Nov. 19, at Grangeville Elementary Middle School.
Regular worship services are held Sundays at 9 a.m. followed by Sunday school for all ages at 10:30 a.m. Choir practice is Wednesdays at 6:30 p.m. and Bible study is at 7 p.m.
The church is located at 515 W. N. 2nd Street; Pastor Ben Boeckel, 208-695-5927; the parsonage at 208-983-2144; www.grangevillenazarene.org; or check for activities on Facebook.