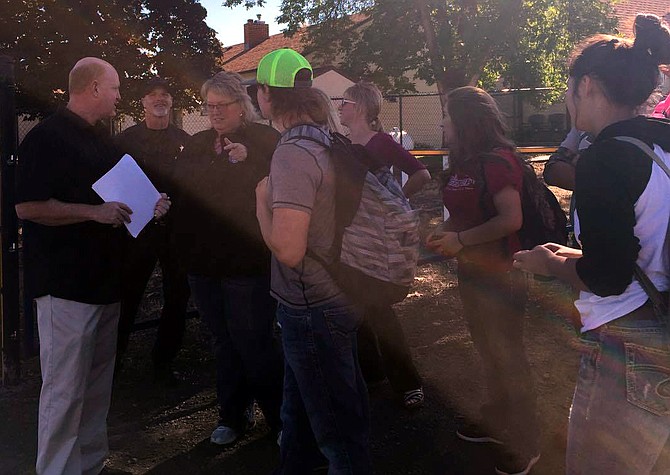 Photo by Lorie Palmer
GHS principal Randall Miskin checks students out following the Wednesday, Sept. 27, morning's bomb threat and school cancellation.
GRANGEVILLE — Grangeville Police continues its investigation into last week's bomb threat incident at Grangeville High School. No suspect has been identified at this time.
"But if we do develop one, we fully intend to charge someone, if we can," said Police Chief Morgan Drew. The person involved could face a charge of false reporting explosives in a public or private place, a felony.
"It's a day we have to make up; a complete waste," said superintendent Marc Scheibe, Mt. View School District 244. "And we will pursue every legal action when we catch this person."
The Sept. 27 incident was reported around 9:15 a.m., according to Drew. A GHS student reported finding a handwritten note in a downstairs boys' bathroom indicating a bomb was in the bus barn. Students were subsequently evacuated to the football field, and law enforcement cleared the barn and all buses.
"We didn't find anything," Drew said.
The incident lasted about three hours, and GHS classes and activities were canceled for the rest of the day.
GPD was assisted in the incident by the Idaho County Sheriff's Office, Idaho State Police, Cottonwood Police Department and North Idaho Correctional Institution.
"The cooperation was outstanding," Drew said. "It was very much appreciated."
The last reported bomb threat at GHS was April 2, 2014. Previously, two were reported in 2013, and one each in 2008 and 2010. This is the first incident since cameras were installed at GHS following the 2014 incident.