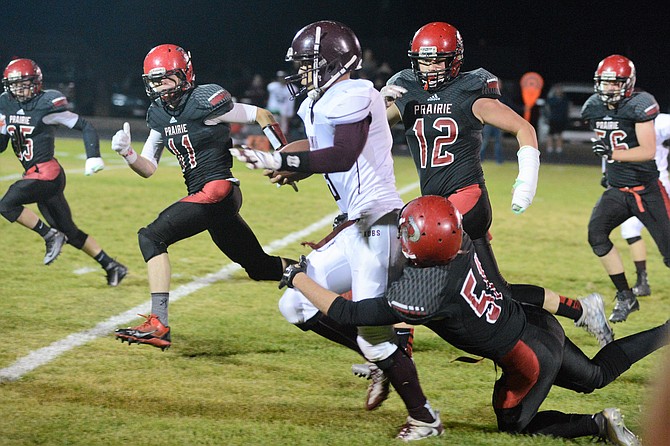 Photo by Andrew Ottoson
Kamiah's Kaleb Oatman accounted for essentially all the offense the Kubs produced Friday night, Sept. 30, at Prairie, where he was frequently surrounded by the Pirates defense.
COTTONWOOD — The opening kickoff turned the early game into nervous moments for Prairie, but the Pirates eventually prevailed 38-12 on homecoming night, Sept. 29.
"We did a good job of mixing run and pass offensively," Pirates head coach Ryan Hasselstrom said. "Defensively, stopping their run game was huge. We knew if we could make them have to throw, we'd have a good chance of beating them. Kaleb (Oatman) made it hard on us the first half — he kept moving in the pocket and we had a lot of good clean shots at him and just missed him. Then he'd find guys down field. Second half, we tightened up defensively."
Prairie was set to receive the opening kick with a strong breeze at their backs — apparently too set, because when the wind whipped the first bounce back toward the Kamiah line, the Kubs got to it first. With the bounce in their favor and a bounce in their step, the Kubs ran in a 14-yard touchdown run for a 6-0 lead early.
That was just the first time KHS quarterback Kaleb Oatman proved a tough guy to tackle. After the Pirates leveled the score at 6-6 on an Owen Anderson run, Oatman converted a third down in improbable fashion. With a couple of Pirates all over him in the backfield, Oatman broke away from their grasp and threw deep to Cristian Lopez, setting up Oatman's second touchdown run of the night.
"We did a lot of things well that first half," Kubs head coach Nels Kludt said. "We blocked well and ran the ball well, but we also had some penalties and left some points out there. We should have had a couple of touchdowns. And they played better than we did in the third quarter, on both sides of the line of scrimmage. They had our number, and we had to play a lot of defense that quarter, and we're not really built to come back from behind."
The Pirates pulled ahead on a couple of strong plays by Damian Forsmann, who finished off the tying drive with a one-yard run, which was set up by Jake Stubbers' fourth down conversion run. The Pirates got the ball back with four minutes left in the first half when Spencer Schumacher recovered a fumble. Then Forsmann found Hunter Chaffee for a 35-yard score.
That was all the more the Pirates offense had to produce, as the PHS defense kept Kamiah in check the rest of the way. Stubbers, Anderson and Chaffee each scored another touchdown during the third quarter.
As teams, Prairie out-gained Kamiah 360 yards to 160.
Coming — Prairie (4-1, 2-1 Whitepine League) is scheduled to visit Troy (1-4, 1-3 WPL) and Kamiah (1-3, 1-2 WPL) is scheduled to host Lapwai (4-1, 3-0 WPL) Friday night, Oct. 6, for homecoming.