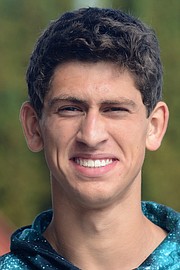 For most of the season, Grangeville's soccer squad played without one of its key seniors, and during the two games since Ryan Ruklic returned to action, he has scored three goals and drawn praise from coach Joel Gomez.
"He has played phenomenal," Gomez said, "and he motivates the younger kids. He puts more than 100 percent into every practice and every game, and other players do their jobs better because of him."
Ruklic called the Bulldogs' most recent game "fantastic."
"The first time we played St. Maries, up here, we got shut out," he said.
Grangeville stormed into St. Maries last Saturday, and took a quick lead on two Ruklic goals.
"They didn't even know what was happening," Ruklic said. "We were passing the ball, we were playing as a team, we were moving and getting each other opportunities, and I was blown away by how we were playing. St. Maries, I think they were pretty surprised with what was going on. We kept taking it to them, and those two early goals really helped."
Ruklic worked give-and-go passes up the field with Brian Ruiz, who fed a through pass between two defenders up to Ruklic, who was then in the clear.
"I had a wide-open net for an easy finish," he said. "It was just a beautiful pass he made — really good combination play."
A similar play had GHS ahead 2-0 20 minutes in, but St. Maries eventually prevailed 4-3. "But if can play a whole game how we did that first 20 minutes, we can beat anyone in the district," Ruklic said.
This Bulldog of the Week athlete highlight is brought to you by: Super 8.