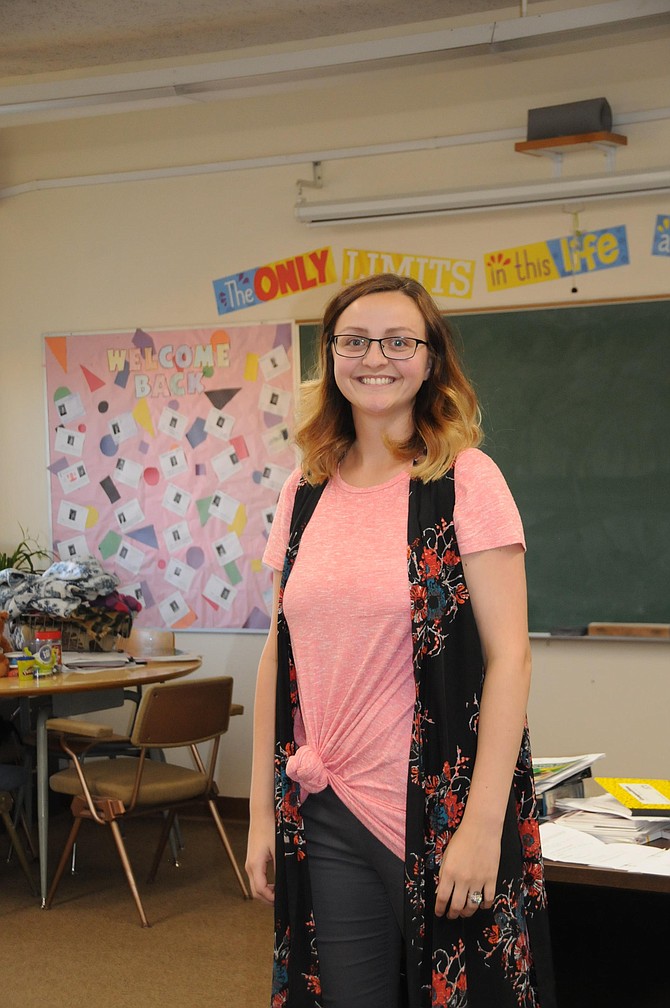 Photo by Lorie Palmer
Taylor Schaeffer is the new special education instructor at Grangeville High School.
GRANGEVILLE — Is it a new student? A visitor? No, it's a teacher!
"I have been mistaken for a visitor or a friend of a student," laughed Taylor Heitman Schaeffer.
Schaeffer is the new face of special education at Grangeville High School. She replaces Sally Payne who retired in May.
Schaeffer is a 2013 graduate of Prairie High School in Cottonwood. She is currently finishing her student teaching and will graduate from Lewis-Clark State College in December with an elementary education major and special education minor.
However, don't let youth fool you, she said.
"I may be young, but I'm fortunate to have quite a bit of experience under my belt," she said.
Schaeffer was a teacher's aide for special services when she was a student at Prairie, then went on to substitute teacher and work as a paraprofessional at Prairie schools, all while she was obtaining her education at LCSC.
"Basically, I almost never left high school," she laughed. "And now I'm here."
She is joined by new hire, para-pro Kathleen Brown – whom she worked with in Cottonwood.
"I feel like we're a good fit and we know how each other works," she said.
Schaeffer said she feels she can relate to the kids at GHS because she is close in age and understands their struggles.
"The students have been wonderful and we're having a great time getting to know each other," she said.
She is teaching life skills classes in English, math and reading, as well a study skills class.
"The goal is to help kids catch up and return to the traditional classroom," she said. "Some kids just need a little help – others need to be with me a bit longer."
Schaeffer will also be teaching some other life skills such as cooking and will be working on some projects that include making and selling Muddy Buddies and creating birthday cards.
"We want to strengthen their core concepts," she said.
Schaeffer and her husband, Dustin, who works for Uhlenkott Well Drilling, have an 8-month-old son, Tatin.
"I'm loving it here," she stated. "Everyone is supportive and welcoming. I'm excited to be in this position."