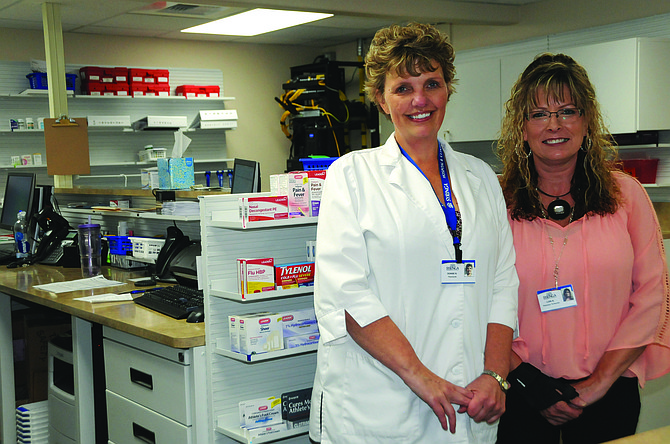 Photo by Lorie Palmer
Syringa Clinic Pharmacy is located by the Syringa Clinic and is staffed by (L-R) pharmacist Denise Nuxoll and pharmacy technician Lori Nuxoll.
GRANGEVILLE — The convenience of accessible care in one location has come to Grangeville. Syringa Hospital and Clinics is now home to a fully operational pharmacy.
Syringa Clinic Pharmacy, owned and operated by Cardinal Health, is located next to the clinic (inside).
"This pharmacy is open to the public, not matter what provider you see, or where you see them," said pharmacist Denise Nuxoll.
Denise previously worked at Arnzen Drug in Cottonwood and was the pharmacist for years at Asker's Harvest Foods, prior to its closing. She is joined by pharmacy technician Lori Nuxoll.
The Syringa Clinic Pharmacy is a 340B entity, which means it qualifies to purchase prescription drugs at a lower cost and then pass those savings on to its customers.
"The goal is to improve patient access to prescriptions in rural areas," explained Naveen Mansukhani, R.Ph, operations director, outpatient pharmacy services, Cardinal Health. Mansukhani was visiting from New Jersey last Wednesday, Sept. 27.
This is meant to assist the uninsured and underinsured, as well as make prescriptions more affordable for all customers.
Denise and Lori work closely with Syringa providers since the clinic is next door, and also connects to the hospital.
"This makes it easy for those who see their provider and then they can simply walk a few steps and have their prescription filled," Denise said. "But it's also available for people who do not doctor here at all, who are visiting the area, or who see providers in other areas."
The pharmacy is fully stocked, however, any drugs not in stock can be ordered and next-day delivered. Prescriptions can also be mailed to homes as necessary or for convenience.
Also available are compliance packages (easy open bubble/blister packs that list dosages, time to take, what the medicine is and who prescribed it) to help with medication reminders as well as for those who may need the packaging for travel. These can be filled a week or a month at time.
Syringa Clinic Pharmacy
GRANGEVILLE — Syringa Clinic Pharmacy is open Monday through Friday, 8:30 a.m. to 5:30 p.m. (closed 12;30-1:30 for lunch) and is located in suite 100; enter by going through the clinic entrance and taking the first right past the clinic doors. The pharmacy is located on the left. Call 208-494-3050.
"The pharmacy will also match prices and accepts all insurance plans, as well as Medicaid and Medicare and non-insured," emphasized Cardinal Health executive director of remote pharmacy services Kelly Morrison, who was visiting from Texas, also on Sept. 27.
Transfers and automated refills and reminders are also available and Denise said she or Lori will make the calls for customers.
"We can call the doctor or another pharmacy on a patients' behalf," she said. "We want to make it as easy as possible on our customers."