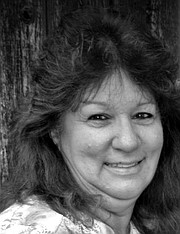 WHITE BIRD — Saturday, Sept. 30, was a great day for the chili cook off. This community all came out to support our group. Winners this year were 1st – Sheryl Clark ($50), 2nd - ($25) Jill Robinett, with 3rd ($10) going to Jenny Hanson. Jenny also brought home the 50/50 drawing but donated it back. Sorry we weren't able to get any pictures as Maggie decided to be out of town (playing?) and no one else took any.
There is a really nice sign at the WBARD play grounds that is special tribute to Mary Newby. She was a teacher there when it was the school. If you haven't been by there and read this, Bessie Cullin wrote a very nice sediment about her and the playground has been dedicated as the Mary Newby Memorial Playground. The end of the wording says it all …"You will be forever in our hearts."
The Salmon River Art Guild will be holding their Fall Art Show/Sale/Silent Auction on Saturday, Oct. 7, from 9 a.m. to 5 p.m. (MST) and Sunday, Oct. 8, from 9 a.m. to 3 p.m. (MSDT). This all takes place at the Riggins Community Center. A truly great art show and so very close to home!
Meetings that are coming up are WBARD on the 9th at 7 p.m., City Council meeting will be on the 11th at 6 p.m., SRAG meets on the 12th at 10 a.m., and the chamber meeting is on the 12th also at 10:30 a.m. Speaking of Chamber, they are looking for someone to fill in for, and take over the position of secretary/treasurer, as Mike Andrews and his wife are moving to Virginia. We all wish them the best of luck in the future. We are sorry to see them leave our small community, but I am sure they have plans for that "retirement."
WBARD hunting 'brag' contests announced
WHITE BIRD – WBARD (White Bird Activities and Recreation District) announces the Big Buck Brag Time and the First Time Hunter Brag Time contests.
Adults are invited to enter the Big Buck Brag Time Contest for an entry fee of $5 and a chance to win prizes. The categories are biggest rack and nontypical rack.
For the first-time braggers, unique photos from hunters 10 to 12 years old, with their deer or elk will be judged. No entry fee.
— Gloria Teats
The Old Time Fiddlers will be at Hoot's Café Oct. 13 and 14, all day for the weekend. Come join them and enjoy some old-time music and maybe join in.
Remember the annual Halloween Party is on Saturday, Oct. 21, from 6-8 p.m. Darla Brumley is heading this party up and it should be a great time again as always!
The place to be at the end of the month is the Silver Dollar Bar as they will be starting up with the Cribbage Tournaments. Starting at 2 p.m., every Saturday and running into spring.
Birthday celebrations go out to Bobbi Eller, Jack Pakkala (1st), Tom Lammie (2nd), Richard Henderson, Lars Anderson, Bob Black (3rd), Emrie Brumley, Jordn Lyon (4th), Katters Johnson, Bladen Farmer (5th), Lyla Lucarelli (6th), and Jackson Cook, Aaron Dobbs (7th).
Anniversary wishes go out to Jim and Missy Palmquist (6th).
Photo Gallery
A Glance at History