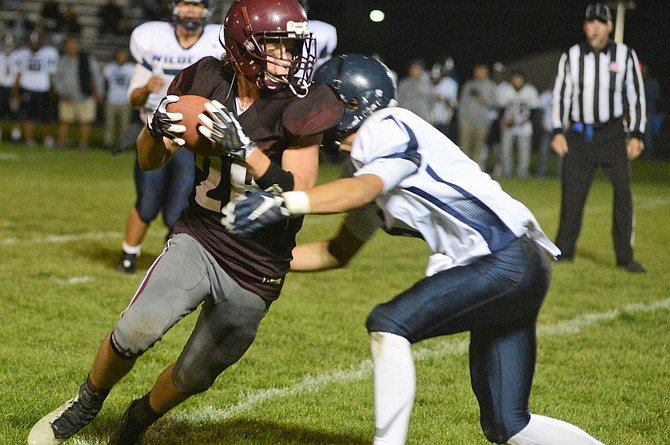 Photo by Andrew Ottoson
Kamiah's Luke Snyder was a frequent target for Kubs quarterback Kaleb Oatman, including for this catch during the late stages of Kamiah's bid to upstage Whitepine League-leading Lapwai Friday night, Oct. 6.
(Check back later for results. To report a score, text 208-507-0675, Facebook us, or e-mail us. Complete score sheets received by 10 p.m. will be written up tonight.)
Volleyball results
Thursday, Oct. 5
Prairie def. Grangeville 3-1 (25-16, 25-15, 20-25, 25-11)
Kamiah def. Lapwai 3-1 (25-16, 18-25, 25-22, 28-26)
Summit def. Timberline 3-0 (25-15, 25-14, 25-15)
Potlatch def. Clearwater Valley 3-0 (25-14, 25-10, 25-9)
Football schedule
Friday, Oct. 6
Grangeville 30, St. Maries 29
Lapwai 40, Kamiah 36
Prairie 78, Troy 32
Salmon River 46, Garden Valley 14
Garfield-Palouse 48, Clearwater Valley 26
Soccer results
Friday, Oct. 6
Grangeville vs. Priest River (at Moscow)
Girls: Priest River 9, Grangeville 4.
Boys: Grangeville 1, Priest&nbspRiver 0.
Volleyball schedule
Saturday, Oct. 7
Grangeville at Genesee, 9 a.m.
Cross-country schedule
Saturday, Oct. 7
Inland Empire Challenge (at Lewiston), 11 a.m.
Soccer schedule
Saturday, Oct. 7
Grangeville vs. Timberlake
Girls at noon
Boys at 2 p.m.
Soccer schedule
Monday, Oct. 9
District tournament at Lakeland High School
It's homecoming night in Kamiah, Tom's Tailgate is coming to Kooskia and Grangeville will play its first Central Idaho League game of the season. It's a big weekend for local teams. Grangeville has soccer matches Friday and Saturday -- the Saturday matches being the regular season finale. Also on Saturday, the GHS volleyball team is headed to Genesee's Pea & Lentil Tournament, and cross-country teams are set to compete in one of the largest events of the season.
Tonight, it's Football Friday.
WHERE WE'LL BE
KAMIAH - The Kubs will celebrate homecoming and will take on Lapwai tonight. The Wildcats are undefeated in Whitepine League play, but were beaten by Salmon River two weeks ago.
AROUND THE LEAGUES
At St. Maries, Grangeville will be looking to avenge an 8-0 loss to the Lumberjacks that in effect decided the Central Idaho League title last fall. The rivalry has been hotly contested since 2015, but prior to that year, the Bulldogs had dominated three in a row.
At Troy, Prairie will look to extend a three-year winning streak against the Trojans. The Pirates are currently third in the Whitepine League, having lost only to league-leading Genesee.
In Riggins, Salmon River hosts Long Pin Conference foe Garden Valley -- a team the Savages have beaten every time in recent memory.
MORE TO SEE
In Kooskia, the Rams will host Garfield-Palouse on the field and "Tom's Tailgate" for a pregame visit by KREM weatherman Tom Sherry.
RESULTS
Lapwai escapes with a narrow win
KAMIAH - Down by a dozen with less than six minutes to play, the Kubs put together one of the finest defensive stands seen all season at the recently-christened Bob Squires Sports Complex. Lapwai ultimately prevailed 40-36, but not before the Kubs forced a punt with barely more than three minutes remaining. Two tackles behind the line of scrimmage by Luke Snyder gave the KHS offense a chance near midfield, which turned into an 11-yard touchdown pass from Kaleb Oatman to Snyder with 2:28 remaining.
Kamiah tried the onside kick, of course, and recovered it near midfield. Lapwai pressured the passer heavily during the final sequence, but Oatman was able to get two passes into the end zone -- both of which might have been catchable, neither of which were caught.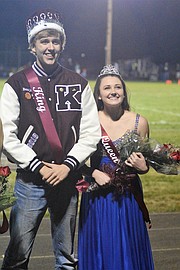 Early on, Kamiah led 6-0 on a 10-yard run by Titus Oatman, slipped into a 6-6 tie on a run by Tui Moliga Jr., led 12-6 on a 1-yard run by Titus Oatman, and fell behind 14-12 on a 53-yard run by Moliga followed by a conversion pass to Kendall Leighton just before the end of the first quarter. Kamiah regained the lead by way of a big play, with a 62-yard pass from Kaleb Oatman to Cristian Lopez and a run by Kaleb Oatman making it 20-14 early in the second quarter. Lapwai drew even with a 28-yard touchdown catch by Pox Young, and pulled ahead, 26-20, with a run by Young. Lapwai added another short-yardage run by Moliga with 43 seconds left in the second quarter. Kamiah closed within four on a 16-yard Kaleb Oatman run with about three minutes left in the third quarter. A touchdown pass and a conversion pass -- both to Leighton, on similar plays -- put Lapwai in what looked like a commanding position, with a 40-28 lead.
"Lapwai played great," Kubs coach Nels Kludt said. "We couldn't stop them in the first half. But our kids played hard. We held them to one touchdown in the second half. We just came up 10 or 15 yards short. Give Lapwai credit. They gutted it out and made the plays when they had to. Luke Snyder had a ton of tackles, forced two fumbles and caught a few passes. He ran the ball a couple of times too, to start the second half, as a change-up. Peyton Whipple did a great job tonight. He put some pressure on in the second half. We didn't have much pressure on their quarterback in the first half, and our d-line did a better job in the second half -- Peyton especially. He also blocked well. And there's a lot of other guys, too. The game speaks for itself -- I wish we would have had 15 more yards, but that's the way it goes."
Bulldogs prevails in double overtime
Grangeville's football boys came up with critical win Friday night, Oct. 6 at St. Maries. They trailed 7-0 at halftime and 14-0 in the fourth quarter but went on to prevail 30-29 in double overtime.
Late in the fourth quarter, Tescher Harris found Noah Kaschmitter -- that duo's second scoring connection of the night -- for 40 yards and the tying touchdown. They connected again for two points after a Kaschmitter run in overtime, and after another Kaschmitter run -- his fourth on the evening -- a two-point conversion pass from Harris to Booker Bush put Grangeville over the top in double-overtime.
"That was the hardest fought game by two teams I have ever been involved with," GHS head coach Jeff Adams said. "Harris, (Justin) Fogleman, Kaschmitter, hell, the whole team did things like they were four-year starters in college. They never freaked out and they never gave up. (William) Nichols took on their best defensive lineman and is beat to crap -- he was so undersized, but never gave up. I have never been more proud of my kids and my staff."
The win puts Grangeville atop the Central Idaho League with one regular season game left to play: Orofino is coming to town for that one next Friday night.
Salmon River 46, Garden Valley 14
RIGGINS - The Savages took an 18-14 lead into halftime on the strength a touchdown run by Canyon Harper and two touchdown catches by Randy McClure, and they did not allow Garden Valley another point after halftime Friday night, Oct. 6. Harper scored twice more on runs, and the Salmon River defense housed two turnover returns: Reece Jones ran back a fumble and Payton Baugh ran back an interception.
Pirates plunder Troy
TROY - Nine Prairie rushing touchdowns proved more than enough in the end, but during the early phases of the Pirates 78-32 win Friday night, Oct. 6, the Trojans led 6-0 and 12-8. After Jake Stubbers put the Pirates ahead with a 41-yard touchdown run, Troy kept it interesting with a 58-yard passing touchdown. Prairie scored the next five touchdowns, effectively ending the contest with about four minutes left in the third quarter. Caleb McWilliams ran for 184 yards and three scores on 12 attempts, and Stubbers ran for 146 and three scores on 18 attempts.
<< PREVIOUSLY