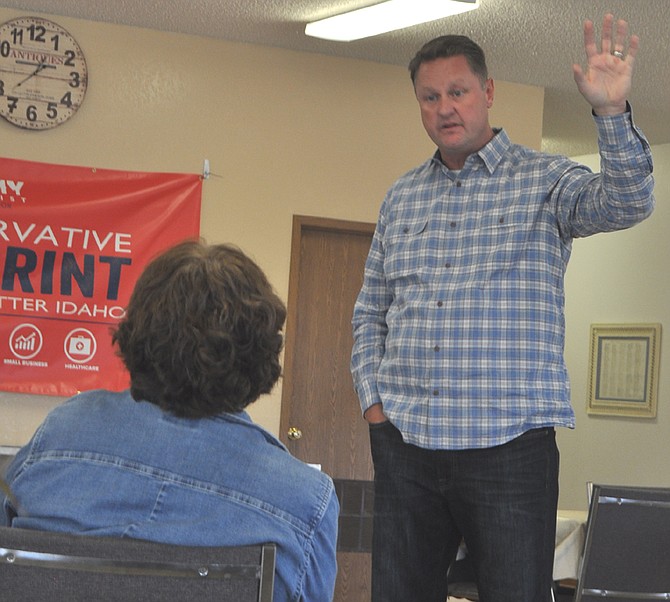 Photo by David Rauzi
Republican governor candidate Tommy Ahlquist answers a question during a campaign tour meeting at the Grangeville Senior Center last Thursday, Oct. 6.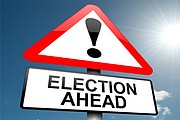 GRANGEVILLE — "I bring real-world experience with a record of getting things done," said Tommy Ahlquist. A Republican running in the 2018 Idaho Governor race, the Boise commercial developer and former physician made a campaign stop in Grangeville last Thursday, Oct. 5, as part of his "44 Counties in 44 Days Tour."
A light group, six people, attended the noon meeting at the Grangeville Senior Center where Ahlquist hit five points – education, health care, tax reform, small business and ethics/term limits — in his "conservative blueprint" that, if elected, would direct his decision-making as governor.
Idaho is a great place for families and one that honors traditional values, "but we have challenges," Ahlquist said, for example: 44th in the nation for median wage: "We have more working poor than anywhere in the nation;" 33rd in the nation for high school graduations and 19 percent for graduates being college or career ready.
Problems in education are "we don't set clear goals, and we don't get anywhere," he said, hitting a theme common throughout his presentation on the lack of set policy within the executive and legislative branches that thwarts unity and setting common goals.
"We need a crash course in ethics in Idaho," Ahlquist said, for its elected officials. "Idaho has almost no requirements for disclosure," on personal income, conflicts of interest. He believes in term limits, especially for the governor and legislators: "Eight years. Get what you need to get done, and then move on."
"Small business, the entire economy rests on it, and we don't do enough to serve them," he said. His platform included proposals to eliminate burdensome mandates and regulations, and to streamline, innovate and create a culture where state government serves people and small businesses.
An unidentified meeting attendee noted the loss of Secure Rural Schools funding to Idaho County, and the subsequent increased property tax burden on her to pay for services.
"The people of Idaho need to understand that policy matters," Ahlquist said, and the lack of leadership in state government impacts business that in turn impacts jobs that affects everything else. "We have to go at this thoughtfully," providing a "flat and fair" property tax, ensuring income tax is competitive with neighboring states, and to focus on helping rural Idaho. Some state spending may need to be reined in, "but in local governments, their dollars are stretched as far as they can go."