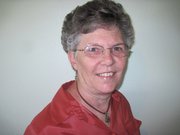 COTTONWOOD — The drawing for the hot rod at Summit Academy took place Saturday, Oct. 7, and the winner issss, Jason Vogel of Lewiston. Congratulation, Jason! Have fun with that car.
Local artist Eric Wassmuth has some of his metal artwork on display at the Center for Arts and History at 415 Main St. in Lewiston. The art show and sale is for local steampunk artists. They are calling it "The Reclaimed Revolution." It will be on display until Oct. 26.
A brats and ham dinner is on the menu for the upcoming Prairie Community Library fund-raiser set for Saturday night, Oct. 21. The main entree, tasty Sonnen Meats brats will be featured compliments of Sonnen Meats, along with ham, two varieties of potato salad sides, sauerkraut, lettuce salad, homemade dinner rolls, and cheesecake for dessert. A no-host social hour begins the evening at 5 pm, followed by dinner being served at 6 pm. The evening continues with a wine raffle, silent and live auctions, live music and dancing, all for your pleasure and enjoyment.
Tickets for the Prairie Community Library Brats and Brew are available at the Library, phone number 208-962-3714, and at the Cottonwood Community Credit Union. Advance ticket price is $25 per person, or $30 per person the evening of the event. Tables of eight may be reserved with purchase.
Rosary Rally set for Cottonwood Oct. 14
COTTONWOOD — The date for the Rosary Rally in honor of our Lady of Fatima is this Saturday, Oct. 14. It will start at noon and we will be reciting the rosary in the church at the same time as the procession. We have a life size statue of Mary that will be carried through the streets. When we get back to the church, we will have prayers and songs. It will last about one hour. Take time out of your busy day to praise God and thank him for the many blessings he gives us. For more information contact Donna Wassmuth at 208-962-3561 or Max Nuxoll at maxnjoan@gmail.com.
Come and enjoy the Assumption Parish Dinner Sunday, Nov. 5. 11 a.m.-4 p.m. Roast beef and ham dinner, potatoes, gravy, vegetable, green salad, rolls and dessert. Bingo All Day! Pat Alfrey is distributing the raffle tickets for the bazaar. Call her and take a few books to sell 208-962-7203. Raffle books also available at the Tri-Parish Office. Join us!
The students at Prairie Elementary School are doing their annual cookie dough sale. The Center for Discovery and Prairie Elementary both will benefit from this fundraiser, so if you would like to order cookie dough, please contact any student at the school. They have many different kinds available. To view your choices, go online at shopbelieve.com. All orders will be delivered before Thanksgiving. For more information please contact Erin Shears at the school.
There was a dusting of snow on Cottonwood Butte Saturday night. Time to start thinking about getting ready for winter. Make sure everything is winterized. Time to pick apples, too. They usually need a light frost to ripen completely.