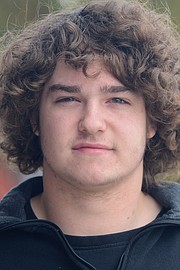 "It was a battle, for sure," Grangeville's Justin Fogleman said. "They're a good football team, big, physical, they're all weight-lifters, and it's just tough to play good teams when some things go against you."
Grangeville caught a bad break on a big play when a St. Maries punt returner muffed the catch and Clayton Brown returned the apparent turnover into the end zone — only for it to be called back for interference.
"Instead of a touchdown for us, that was a 70-yard gain for them," Fogleman said.
But as they did throughout the night, the Bulldogs persevered. The defense stopped St. Maries — which led much of the game 7-0 — from scoring on that sequence.
"We just had to not quit," Fogleman said. "Every time they destroyed our momentum, we had to let it go and move on to the next play. You can't dwell on it. Your team is down and you have to do something about it."
The game could have ended on a a two-point conversion pass the Bulldogs successfully defended, but that, too, was reversed, allowing St. Maries another attempt.
After Grangeville's offense turned it over deep in Bulldogs territory early in the game, Booker Bush forced a fumble and Fogleman recovered it.
"That was a big play," he said. "We forced another fumble in the red zone on the other side of the field and that was another big one. Kyle Frei and I forced that one, and I think Booker recovered it."
The Bulldogs prevailed in double overtime and can take the league title this Friday night, Oct. 13, at GHS.
This Bulldog of the Week athlete highlight is brought to you by: Super 8.