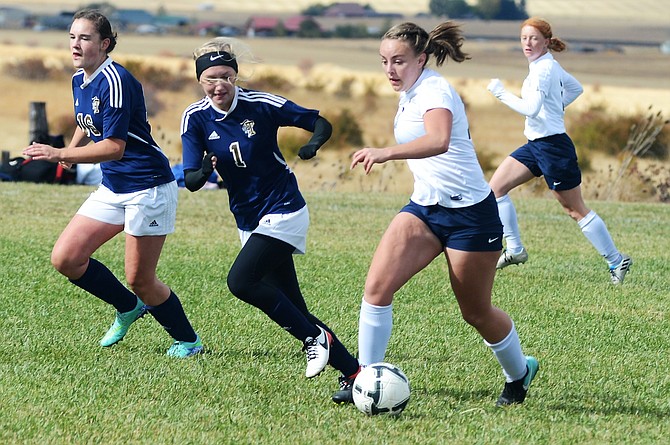 Photo by Andrew Ottoson
Grangeville's Tessa Godfrey (pictured) and Brenda Gomez were honored before the last game of the first GHS girls soccer season.
GRANGEVILLE — Chloe Dame and Baeli Kinsley scored the final two goals of the first GHS girls soccer season last Saturday, Oct. 7, during their regular season finale against Timberlake, which won 10-2. Before that game, GHS honored seniors Tessa Godrey and Brenda Gomez.
Timberlake eliminated Grangeville from the district tournament Monday night by a 7-0 final score.
"It was a hard-fought season," head coach John Cuffe said. "With a small squad, we were in for a tough time, but the girls kept their spirits up and improved a lot. There was just too much ground to make up. But I'm proud of them. We'll lose our two seniors, but it looks like we might have four or five more players coming up next year."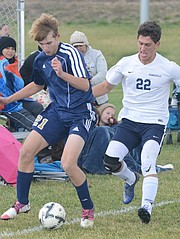 Boys post district tournament 'W'
A 3-2 district tournament win over Orofino Monday night, Oct. 9, propelled the Bulldogs into the second round of the tournament at Lakeland, where the GHS boys were slated to play Timberlake after the print edition went to press on Tuesday, Oct. 10.
With a win over Timberlake, the Bulldogs would stand to play for the district title Thursday, Oct. 12; a loss would end their season.
Timberlake beat the Bulldogs 4-1 last Saturday at GHS, taking a 2-0 lead, which senior Ryan Ruklic halved on an assist from Adrian Ramirez.
Timberlake scored twice more in quick succession midway through the second half, which secured for them a first-round bye in the district tournament.