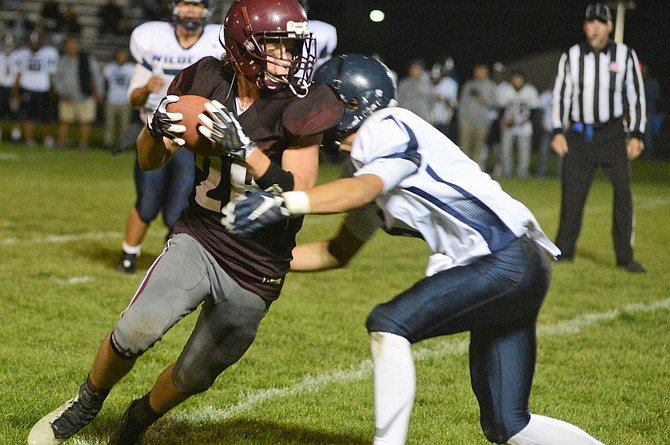 Photo by Andrew Ottoson
Kamiah's Luke Snyder was a frequent target for Kubs quarterback Kaleb Oatman, including for this catch during the late stages of Kamiah's bid to upstage Whitepine League-leading Lapwai Friday night, Oct. 6.
KAMIAH — Down by a dozen with less than six minutes to play, the Kubs put together one of the finest defensive stands seen all season at the recently-christened Bob Squires Sports Complex.
"The game speaks for itself," Kubs head coach Nels Kludt said. "I wish we would have had 15 more yards, but that's the way it goes."
Lapwai ultimately prevailed 40-36, but not before the Kubs forced a punt with barely more than three minutes remaining. Two tackles behind the line of scrimmage by Luke Snyder gave the KHS offense a chance near midfield, which turned into an 11-yard touchdown pass from Kaleb Oatman to Snyder with 2:28 remaining.
Kamiah tried the onside kick, of course, and recovered it near midfield. Lapwai pressured the passer heavily during the final sequence, but Oatman was able to get two passes into the end zone — both of which might have been catchable, neither of which were caught.
Early on, Kamiah led 6-0 on a 10-yard run by Titus Oatman, slipped into a 6-6 tie on a run by Tui Moliga Jr., led 12-6 on a 1-yard run by Titus Oatman, and fell behind 14-12 on a 53-yard run by Moliga followed by a conversion pass to Kendall Leighton just before the end of the first quarter. Kamiah regained the lead by way of a big play, with a 62-yard pass from Kaleb Oatman to Cristian Lopez and a run by Kaleb Oatman making it 20-14 early in the second quarter. Lapwai drew even with a 28-yard touchdown catch by Pox Young, and pulled ahead, 26-20, with a run by Young. Lapwai added another short-yardage run by Moliga with 43 seconds left in the second quarter. Kamiah closed within four on a 16-yard Kaleb Oatman run with about three minutes left in the third quarter. A touchdown pass and a conversion pass — both to Leighton, on similar plays — put Lapwai in what looked like a commanding position, with a 40-28 lead.
"Lapwai played great," Kludt said. "We couldn't stop them in the first half. But our kids played hard. We held them to one touchdown in the second half. We just came up 10 or 15 yards short. Give Lapwai credit. They gutted it out and made the plays when they had to. Luke Snyder had a ton of tackles, forced two fumbles and caught a few passes. He ran the ball a couple of times too, to start the second half, as a change-up. Peyton Whipple did a great job tonight. He put some pressure on in the second half. We didn't have much pressure on their quarterback in the first half, and our d-line did a better job in the second half — Peyton especially. He also blocked well. And there's a lot of other guys, too."
Coming — Kamiah (1-4, 1-3 Whitepine League) is set to host Troy (1-5, 1-3 WPL) this Friday night, Oct. 13.