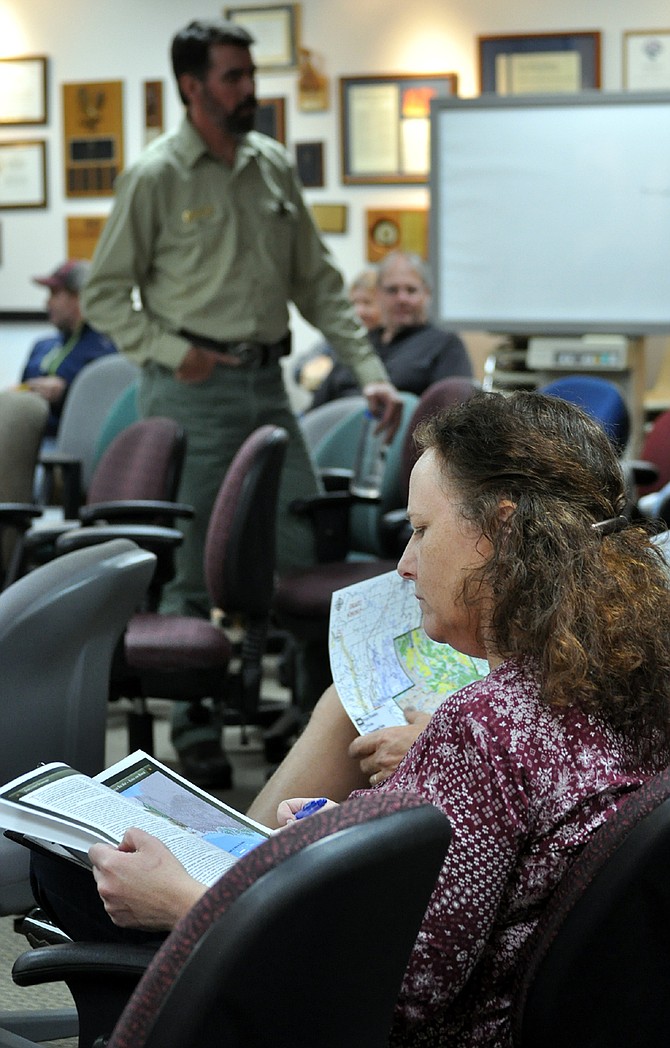 Photo by David Rauzi
A woman reviews documents prior to the Thursday, Oct. 5, meeting on the proposed End of the World project, held at the Nez Perce-Clearwater National Forests Office in Grangeville. Talking with attendees in back is Salmon River District Ranger Jeff Shinn.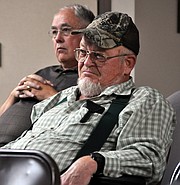 GRANGEVILLE — Prescribed burning was a concern for Grangeville couple, Dick and Lois Geary, who questioned Forest Service officials last week concerning a potential project south of Grangeville. They asked about areas designated for fuels and possible prescribed burns – including close to their property – that take up a sizeable portion of the approximate 49,500-acre End of the World project map.
"We want to work with you as landowners," said Salmon River District Ranger Jeff Shinn, discussing the burns proposed for these areas, along with repeating a theme throughout last Wednesday's meeting this project will be shaped by public comments and concerns. Officials that evening recognized residents' concerns, due to the 2005 Blackerby Fire that threatened multiple homes in this area, and Shinn clarified they were listening: "We're not going to send a wall of flame at you. That's not our intent."
"This is a rollout. It's not a plan yet. It's very preliminary," Shinn said at the Oct. 4 meeting's start, setting the tone this proposal is just that and will be formed through public feedback.
Sixteen people attended for a nearly two-hour presentation and to informally meet with planning staff on the End of the World proposal to address forest health and hazardous fuel concerns. Treatment is warranted under designation by Governor Butch Otter as part of a national insect and disease treatment area through the 2014 Farm Bill/Healthy Forest Restoration Act.
In summary, the project area suffers from forest health issues that have created fuel loads in a region historically prone to fires; more than 100 starts were recorded during 1987-2017. Team Leader Zoanne Anderson pointed out the project area falls within a forested area of northern Idaho designated in 2012 at a mortality risk of 25 percent or greater due to insects or disease.
The general proposal is to use a combination of treatments including logging, prescribed fire and hazard tree removal, and to promote more fire-resistant species – ponderosa pine and western larch – growth. For example, Anderson detailed thinning would be conducted in stands of young trees (1 to 15 inches in diameter); harvesting in middle-aged forests (15-20 inches in diameter) to address mixed conifer stands that are more susceptible to drought, fire, and insects/disease; and harvesting in mature stands (more than 20 inches in diameter) would retain large, healthy trees.
"The focus of the project is to retain those healthy trees," she said. "It's the right thing to do."
As Shinn explained to the Grangeville City Council at its meeting earlier that week on Monday, "folks hold this area very near and dear," for its recreational values, and public concern for those is greatly solicited to help shape the project.
"We're looking to see how we can partner with them [landowners]," Anderson said at the meeting, "and the work will be complementary with what they are doing to increase the resiliency of their forest land."
On hazardous fuel loading, "If you've been out there you've seen it's thick, really thick," Anderson said. The presentation noted mixed conifer and mixed-age stands create ladder fuels that can cause crown fires, and insect and disease mortality is contributing to fuel loading. "This creates concern for our fire guys," she said, for crew safety and accessibility to these areas.
The tentative timeline is to develop public comment through February 2018, with subsequent analysis and planning action to follow for a draft FONSI (finding of no significant impact) and environmental assessment that October, followed by an objection review and subsequent decision to be signed in January 2019.
Comments that evening began to shape the process, such as whether young stand thinning could include commercial use versus cutting them to leave on the forest floor, and that harvesting be conducted in other than a stewardship process to open the opportunity to more individuals to participate. Another concern from a cross-country skiing aspect was that restoration efforts may open its trails enough to encourage snowmobile use. Shinn commented impacts to recreation would be considered as part of the project.
"We're looking for ideas to make it a good project," Anderson said.