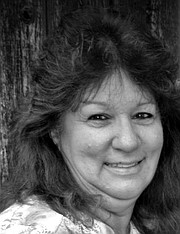 WHITE BIRD — Remember the Old Time Fiddles will be at Hoot's Café Oct. 13 and 14, all day for the weekend. The Annual Halloween Party is Saturday, Oct. 21, from 6-8 p.m. Darla Brumley is heading this party up and it should be a great time again as always! This is early this year and is fast approaching so get those costumes ready and let's have some fun!
New business in town is Hammer Down River Excursions, located at 145 River Street (old liquor store). They are offering jet boat trips, fishing trips and evening dinner cruises. They are on Facebook and Instagram. They are also offering tips and videos on fishing techniques and other helpful tidbits. Owner Homer Brown says they can be reached by calling 208-839-9993 or go to the website www.hdriverexcursions.com.

Emma's Mexican Food, located in Mac's is up and running. All homemade food at a very affordable price. They are open Thursday - Monday from 11 a.m. to 8 p.m. Call 208-839-2600 or 509-770-3725 for information on the daily specials. With the cooler weather coming on, they will be serving soups and sandwiches also. The bar is also open so come on in and enjoy a hot meal along with your favorite beverage.
Classes for the Fit & Fall have started and run every Monday and Wednesday from 2-3 p.m. This is for the older adults who may have trouble with balance and strength. Classes are held at the Pleasant View Baptist Church; contact Char Hurt, 208-839-2261 or Pepi Whitehouse at 208-839-2866.
Duane Sickels is at Deaconess Hospital in Spokane. Prayers are needed as they are running tests and are waiting on results. Hope you get well soon and can come home.
Mary Austin passed away Sept. 27. A private memorial with family is being scheduled. Our prayers go out to the family.
Meetings this week are City Council meets at 6 p.m., on the 11th. SRAG meets on the 12th at 10 a.m., then at 10:30 a.m., the Chamber meets.
Birthdays for this week are Barry Trivitt, Allison Kitchen, Ray Holes (8th), Ethan Eckman, Sonya Brandt (9th), Danny Johnson, Jim Palmquist (12th), and Jeanne Wilson (13th).
Anniversary wishes go out to Jack & Sharon Pakkala (9th).
TidBits: Steel was in short supply during WWl. That apparently resulting in the drowning of a steer in 1931. Speaking of Idaho.
A collapsed bridge over the Salmon River at the mouth of White Bird Creek. The composite cantilever bridge was built during the war using as little steel as possible. Not enough steel, perhaps, as it collapsed under the weight of a herd of cattle being driven across it in 1931.
Seventeen cattle and one cowboy went into the Salmon River. Sixteen steers and one cowboy came out, leaving one steer the causality of a distant war.