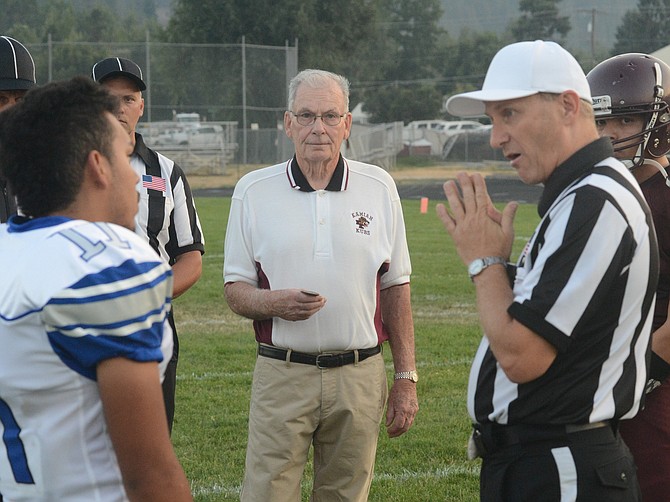 Photo by Andrew Ottoson
Bob Squires, for whom the Kamiah sports complex was officially named earlier Friday evening, Sept. 1, delivered the pre-game coin toss. Valley called heads and the flip came up tails.
(Check back later for results. To report a score, text 208-507-0675, Facebook us, or e-mail us. Complete score sheets received by 10 p.m. will be written up tonight.)
Football result
Friday, Sept. 1
Grangeville 41, Nampa Christian 0
Salmon River 38, Colton 18
Genesee 36, Prairie 6
Valley 60, Kamiah 20
The majority of Idaho County high schools' football teams are set to play their first games of the season this weekend, with the exceptions in Grangeville and Riggins.
While the Bulldogs scared the Bears last Friday and the Savages are set to play at home with a road win already under their belts, two local teams have their season openers tonight and the third is set to open tomorrow.
Zero Week openers have been the norm for Grangeville and Salmon River, but you'd have to look back to 2012 to find the last time Prairie and Clearwater Valley played August openers. What was so special about that fall? That was the last time Aug. 31 fell on a Friday -- and Zero Week games were played Aug. 24 that year. We won't have to wait too long for the next time Aug. 31 falls on a Friday. That's the case in 2018.
Reader poll
Zero Week 50%
Week One 50%
6 total votes.
But starting this year, there are no more Zero Weeks -- at least not according to the Idaho High School Activities Association football folks. From the IHSAA's handy list of rule changes in effect for 2017:
The IHSAA eliminated the wording of "zero week" for the football start date from the IHSAA calendar and will now refer to the start date as "week 1".
We haven't yet made up our minds yet whether to go along with the crowd on this one.
What do you think? Is it better to stick with the traditional turn of phrase? Or is it time to switch to the phrase that will be used throughout the rest of the state?
WHERE WE'LL BE
KAMIAH - Whatever else happens when the Kubs host Valley tonight, the outcome will have no Whitepine League implications, unlike the contest in Genesee where the league lead will be at stake. (More on this in a minute.) That said, whatever else may happen tonight in Kamiah, the Kubs have scheduled what is sure to be a big moment in school history, when they'll name the place where Hill Street meets Lawyer Creek after Bob Squires.
Squires' contributions to Kubs sports are well-known in Kamiah and beyond, but for those who haven't already heard, here's a bit about the man Kamiah will honor. From Greg Johnson:
Robert "Bob" Squires has dedicated his life to the students he has taught both in school and in athletics. He has a knack of getting the most from the student athletes in the classroom and on the playing field in a gentle persuasive manner. Bob came to Kamiah in 1965 as a teacher, began coaching the next year and has not quit coaching to this day. You will find Bob in the announcer's booth with a headset helping the head football coach during football, and in the spring he is working with the track team perfecting hurdles, jumps or starting technique.

Bob was instrumental with the completion of an eight-lane all-weather track that was used so frequently it had to be resurfaced a few years ago with fund raisers from the community. Bob loves promoting Kamiah and started having large weekend track meets in addition to the Tuesday and Thursday track meets. He started the Kamiah Invitational, the Kamiah Games and the Lewis and Clark Invitational. All of these meets saw participants from as far away as McCall or Kellogg, and they were a great draw not only to the school but also to the community.

Through Bob's knowledge and skill, he was able to bring five boys state track meet championships back to Kamiah. His skill is well known all over the State of Idaho.

Bob's commitment to the children of Idaho has been recognized by the Idaho State Athletic Association and the North Idaho Hall of Fame.

He is the kindest, most inspirational coach we have had the pleasure of being associated with and we feel that it is only appropriate that the Kamiah School District honor a man who has dedicated his life to teaching life skills to two, maybe three, generations of Kamiah students. We feel that an appropriate honor would be to name the track and football area "The Bob Squires Sports Complex."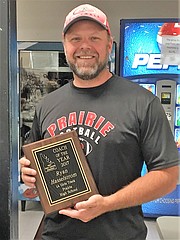 AROUND THE LEAGUES
At Genesee, Prairie is set to take on the Whitepine League favorites in their season opener. Prairie's first September game each year since 2014 has been against Genesee, and the Pirates have won them all: 60-20, 48-8 and 40-18. And this fall, Pirates head coach Ryan Hasselstrom has been telling every media outlet that has asked that Genesee is the team he sees as the best in the WPL this fall. What does that say about Prairie's chances of reclaiming the league title if the Pirates win tonight? That's one we'll put to Hasselstrom for the print edition -- if the Prairie boys find a way to win.
Speaking of Hasslestrom, he was recently named the 1A track and field "coach of the year" following the Prairie girls' team title last spring.
This week, the Cottonwood Chronicle reported Genesee will hold a military appreciation before the football game. From the Chronicle:
Genesee will be holding a military appreciation ceremony prior to Friday's football game with Prairie.

Active military personnel or veterans from the Cottonwood area are invited to take part as well.

At 6:30 p.m. they will ask all veterans and active military personnel to go to the south end zone where there will be an inflatable National Guard Helmet set up.
MORE TO SEE
In Riggins, Salmon River is set to host one of the non-league teams they play every year -- and that they've beaten the last couple of years. In 2011, Colton handed the Savages a 38-30 loss. It was all Salmon River in 2012 and 2013: 44-26 and 54-8. Colton defended its home field 36-22 in 2014. Salmon River won 28-20 in 2015, and 56-20 last fall. It has been something of a bellweather: When the Savages have beaten Colton, coincidentally or not, they have gone on to win the state title.
In Nampa, Grangeville's first road game under new head coach Jeff Adams marks the renewal of a non-league rivalry. The Bulldogs blew out Nampa Christian in 2012, 2013 and 2014, but the Trojans closed the gap to 43-34 last time they played, in 2015. These teams did not meet last fall, but they did have two opponents in common. The scores against McCall may say Grangeville was a better team than Nampa Christian, but neither squad would want to spend much time reminiscing about their respective visits to Declo. (This game will be broadcast on AM 1230 and FM 92.7 and webcast at kortradio.com.)
SATURDAY SPECIALS
Tomorrow, football and futbol action will be happening in two different places.
In Moscow, the Clearwater Valley boys will be playing their football season opener against Wallace at the Kibbie Dome, and the 1 p.m. kickoff does have league standings implications. The CV boys hung tough against Wallace last fall, but this year, the Spokesman-Review has pegged Wallace third -- a healthy step up from the Miners' fifth-place finish last fall. Meanwhile, the Rams have a new head coach. (Find more from our 2017 Fall Sports Preview here.)
At Spirit Lake, the Grangeville soccer squads are scheduled to take on Timberlake at midday. The boys are scheduled to play at noon and the girls are scheduled to follow at 2 p.m. Both teams had been scheduled for doubleheaders, and the boys are still penciled to play Bonners Ferry at 4 p.m. Cancellation of the girls' game against Bonners was announced at 10:30 a.m. today. (Separately, and with more advance notice, changes had been announced to several other GHS soccer schedule dates. A Sept. 9 girls date at Coeur d'Alene Charter was replaced with a home game against Priest River, but the road date was printed in the Fall Sports Preview due to a Free Press error. A total of 10 GHS soccer schedule changes have been announced since Aug. 16, and the Free Press anticipates there will be more shuffling to come.)
In volleyball action, Salmon River is set to host Nezperce and three others for its annual home tournament. Along with the Savages and the Indians, listed as planning to attend are Cascade, Council and Tri-Valley.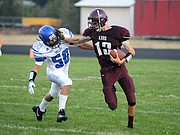 RESULTS
Kamiah honors Squires; Kubs thumped
KAMIAH - "They've got speed, they're physical, they've got the total package," Kamiah head coach Nels Kludt said of his opening-night opponent after his team's 60-20 loss to Valley Friday, Sept. 1. "They beat Challis last week about like they beat us. That's a good team."
Kludt's squad had trouble covering 6-5, 180-pound tight end Zane Mussman all night, and even in the rare moments when the Kubs forced Valley into third-and-long or fourth-and-long situations, the Vikings knew they could always find a trump in the middle of the field.
"He's fast and tall and he has great hands," Kludt said. "We tried a few things on him, and not many of them worked. You have to pay extra attention to him, and that hurts you in the run game. He's just a handful. ... Defensively, we didn't play well and I'm disappointed in that, because we have potential to play a lot better defensively. But we didn't tackle well or get off of blocks. Coverage was OK at times, but we didn't do enough good things on defense to be competitive. Anybody can score in eight-man, but to be competitive statewide or in your conference, you have to slow the other team down or you're not going to go very far."
But offensively, the Kubs showed some explosiveness.
"We did some good things," Kludt said. "We moved the ball well at times. We weren't consistent. We had guys in and out of the lineup, with different linemen in there, and that didn't help our consistency very much. But we're ahead on offense of where we were. We need to run the ball consistently to set up the pass."
When the Kubs did throw, it came in the form of touchdown strikes from Tyrel Henry to Cristian Lopez, Gabe Eades and Kaleb Oatman.
"Cristian is a guy who when you get the ball in his hands, he's going to show his speed," Kludt said. "He's been in the system and he knows his role. You put him on the track and he's a state qualifier in the 100 and 200, and if you give him the ball in the open field, good things happen. He's more than a track guy -- he's got a little football in him, too."
Henry's first touchdown pass was a short-range throw to Lopez, who broke two tackles on his way to the end zone, 77 yards down the home sideline. Henry's second involved a bit of a dipsy-do in the backfield, where he rolled out, then cut back, then rolled back to his right, avoiding the defense and buying time for Eades to find an opening in the back of the end zone.
"I'd liken that to basketball," Kludt said. "You saw the point guard come out of him on that one -- directing things and shedding people. And he's always looking down-field, and not just looking to run. He's always looking to make a throw."
The touchdown pass to Oatman came early in the third quarter, but by then the Kubs were still trailing, 40-20.
"We'll give the guys a day off and start back practicing on Monday to get ready for Kooskia," Kludt said. "That's always a big game, and that's a game we lost last year."
Grangeville 41, Nampa Christian 0
NAMPA - Starting with a couple of early touchdowns, the Bulldogs mauled Nampa Christian Friday night, Sept. 1. Tescher Harris threw four touchdown passes, including one to Braison Norman that staked out a 7-0 Grangeville lead and another to Noah Kaschmitter, making it 13-0 early in the contest. To head coach Jeff Adams' eye, Booker Bush made himself the most visible player, with an interception return touchdown and a 76-yard touchdown run.
"I'm proud of my boys," Adams said Friday night, Sept. 1.
Grangeville (1-1) is scheduled to play Clarkston next week. "We'll give the guys a day off after the win, and we're back to work on Monday," Adams said.
Genesee 36, Prairie 6
GENESEE - The Prairie boys scored 13 seconds into the game Friday night, Sept. 1, but Genesee shut down the conversion run after Spencer Schumacher found Derik Shears for a 73-yard touchdown on the first play from scrimmage. It was all Bulldogs after that, with Genesee tallying one touchdown in the first quarter, one in the second, two more in the third and a fifth with about four minutes left in the fourth quarter. Genesee out-yarded the Pirates 315-122, while Schumacher carried or threw on just 22 of Prairie's 48 offensive snaps. Genesee outperformed in the turnover count, with Prairie's five offset only partly by two GHS giveaways. Defensively, Jayce Huling tallied double-digits with 12 tackles including three tackles for loss.
Prairie (0-1) is scheduled to host Salmon River next Friday night, Sept. 8.
Salmon River 38, Colton 18
RIGGINS - The Savages improved to 2-0 with a doubling-up of Colton. Next up for Salmon River (2-0) is a Sept. 8 visit to Cottonwood.
Soccer squads swept
SPIRIT LAKE - Double-header host Timberlake beat the Grangeville boys soccer team 5-0 during the early game Saturday, and Bonners Ferry beat the Bulldogs 4-1. Timberlake beat the GHS girls 7-0. Grangeville is scheduled to host home games against Priest River next Saturday, Sept. 9.
Wallace rocks CV
MOSCOW - Wallace beat the Clearwater Valley football team 50-22 Saturday afternoon at the Kibbie Dome. The Rams (0-1) are scheduled to visit Kamiah next Friday night, Sept. 8.
<< PREVIOUSLY
NEXT >>