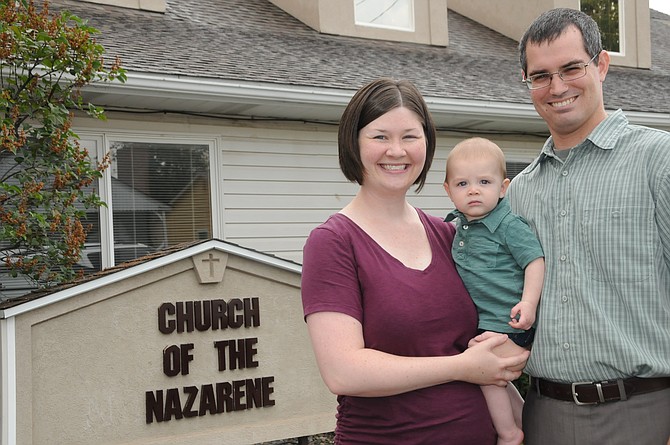 Photo by Lorie Palmer
Pastor Ben and Lynsey Boeckel, along with Baby Peter, are serving at the Grangeville Church of the Nazarene. They most recently moved from Texas.
GRANGEVILLE — After more than a year with interim pastor Bob Hislar and his wife, DeAnne, the Grangeville Church of the Nazarene has a new full-time minister.
Ben and Lynsey Boeckel and their 8-month-old son, Peter, joined the congregation this summer.
Pastor Ben grew up in the Olympia, Wash., area and Lynsey grew up in Nampa. The duo met at Nampa First Church of the Nazarene and married after Ben graduated from Northwest Nazarene University in Nampa.
He was a youth ministry major and had interned at Nampa and Middleton churches, and Lynsey had just finished her first year (though she had come in with credits and was farther along academically) and was working on her liberal studies/general education degree.
"I felt like my education wasn't finished, and felt the call to continue on with seminary." Ben said.
The two moved to Kansas City, Mo., where he attended Nazarene Theological Seminary (NTS).
"That was a big move," Lynsey smiled. She had never lived away from Nampa or her family.
"Looking back," she recalled, "It was a good time for us to become Ben and Lynsey on our own, to grow and mature as a couple."
Lynsey worked while Ben attended NTS, where he also taught some courses and helped with on-line delivery.
"I actually worked for Nazarene Publishing House, so our world was still very Nazarene-centered," Lynsey laughed.
They also spent time in youth ministry at their church in Missouri.
Ben explained that, after NTS, he continued his education at Southern Methodist University, where he received a doctoral degree in Old Testament. "During our time in Dallas, I was also an associate pastor for our church."
It wasn't too long before he began to feel God's leading, he said, in another direction.
"I began to feel the doors opening for a senior pastorate position," he said.
The couple prayed about the decision and then sent out their resume and were soon approached about an opening in Grangeville.
They visited in April, interviewed and met with the board and church, "and the rest is history," Ben smiled.
"Growing up in the Northwest, I have definitely missed my ocean and the mountains," he said. "When we crested over the hill into Grangeville it was beautiful and green."
He may not have his ocean, but he has been able to spend some time fishing Idaho's rivers with some of the men from the church.
"We are really excited to be here," he said. He hopes to see a young adult Sunday School class start as well as continue and enhance existing youth programs. The church also has the Cornerstone Learning Center as a ministry.
"We are also excited to see where God leads this church," he emphasized.
"Everyone has been so welcoming," added Lynsey.
When not working, Ben also enjoys hiking and meeting with and getting to know people. Lynsey enjoys four-wheeling and sewing.
"Mostly, this little guy keeps me busy," she smiled as baby Peter chewed on a toy.
Pastor Ben is at the church office, 515 W. N. 2nd Street, Tuesday, Wednesday and Thursday, 10 a.m. to 3 p.m. He can also be reached at 208-983-0552 or boeckel.peter@gmail.com.
"Please feel free to stop by or get a hold of me," he said. "I look forward to getting to know the community."