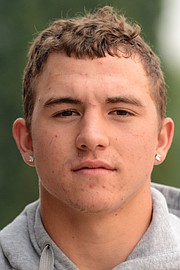 Grangeville's season opener against Moscow didn't turn out the way the Bulldogs wanted, but the play of Booker Bush drew plaudits from head coach Jeff Adams, who remarked on the junior standout wide receiver's playmaking from start to finish on both offense and defense.
While many Bulldogs got into the flow of the game against Nampa Christian last Friday, Sept. 1, Bush made two crushing plays from which the Trojans did not recover.
Bush came up with an interception when a couple of teammates forced the Nampa Christian quarterback into a poor throw, and Bush converted the turnover into a touchdown.
Later, Bush converted a handoff into a 76-yard touchdown run.
"On the interception, I got in there against their backup quarterback, who got sacked by Noah [Kaschmitter] and Justin [Fogleman]," Bush said. "He threw it right to me, and I just had an easy walk into the end zone."
Here's how he described the big run:
"It's a counter," Bush said. "We hadn't run it all game, but we hit it. It was blocked perfect. I think it was [Garett] Malone who led me through the hole. I stiff-armed somebody, and took it to the house."
This Friday, the Bulldogs are set to visit Clarkston, with kickoff scheduled at 7 p.m. Sept. 8. Clarkston beat Moscow 24-14 last week.
"We're really just trying to focus at practice more, because lately, the whole team has been wanting to amp it up and do better," Bush said. "Our goal is, we want to win state. We're going to try to chase that."
This Bulldog of the Week athlete highlight is brought to you by: Idaho Forest Group.