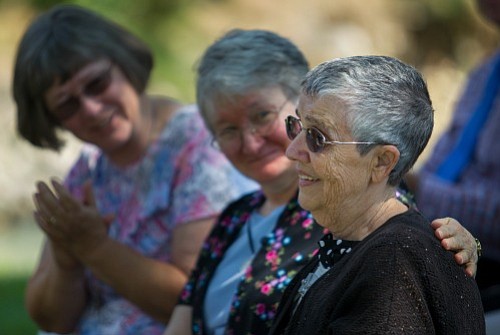 COTTONWOOD — Her cancer may be in remission, but she still faces a long road to recovery from radiation and chemo. Sister Barbara Jean Glodowski is taking the next leg of that journey at the motherhouse in Cottonwood. She has moved home from Jerome, Idaho, where she recently retired from St. Luke's Health System as director of mission and spiritual care.
She did not leave without a grand celebration. In an event on Aug. 1, staff and city officials honored her and the overall Benedictine influence on healthcare in southern Idaho that began with the sisters founding St. Valentine's Hospital in Wendell in 1923. The sisters learned healthcare on the job and often worked without pay to keep the hospital going.
The expanding need for healthcare in rural Idaho led the sisters to found St. Benedict's Hospital in 1952 in Jerome that then became St. Luke's in 2011.
St. Luke's Health System President and CEO Dr. David Pate recognized her with a special President's Award.
"Sister Barbara has provided powerful spiritual care," he said. "Her influence has radiated out across the community in countless ways."
Building such a legacy of influence happens one day at a time. Sister Barbara Jean begins each day with prayer and sacred reading. Then, she said. "I set my dial to look for love. I find God — and God is with me all day long."
Sister Barbara Jean has also worked in Lewiston where she recruited and trained volunteer ombudsmen for the Area Agency on Aging, an organization that sends volunteers into nursing homes to mediate for elders. But then the prioress asked her to become the mission and spiritual care director at St. Luke's Jerome. After initial reluctance, she realized the move allowed her to be closer to her mother.
Sister Barbara Jean insists she has a history of resisting God's call. At her birth, a Benedictine nun prayed Barbara Jean would become religious. But as she grew, she felt drawn in other directions.
"I wanted to grow up, be a nurse, and get married," she said. But what she did not know is that her own mother had contemplated becoming a nun and after discerning a call to marriage and family, prayed that one of her children would have a vocation. When an invitation came to attend a profession ceremony at St. Gertrude's, the adolescent Barbara Jean found herself reluctantly in tow.
"Oh, I was mad," she recalled. "I didn't want to go. But at the ceremony, I was awe-struck. All I could do was cry. When her priest poignantly asked her if she felt a calling, she affirmed her desire to be a nurse and get married. "Then he asked, 'Have you ever thought of putting God first?' That pierced my heart," she recalled. After that, her life took on a movement toward entering St. Gertrude's that she finally couldn't deny. At the age of 18, she left her native Jerome. Two years later she made her first Profession on Aug. 7, 1961.
Sister Barbara Jean became a teacher and eventually earned her master's in education in 1975.
She shared her innovative style at schools in Cottonwood, Greencreek, Pocatello, Nampa and Rupert. Eventually she became a reading specialist for the Idaho State Department of Education in Boise.
In 1993, she was called home to be assistant prioress to Sister Mary Kay Henry. After four years, Sister Barbara Jean began a nationwide ministry leading workshops on second-half-of-life spirituality. During this time, she also continued her work as a reading specialist and consulting teacher. In 2003, she was called by community leadership to be the Mission/Pastoral Director at St. Mary's Hospital and Clearwater Valley Hospital. When Spirit Center opened, she became the retreat center's first director. Then several years later, she began working for the Area Agency on Aging in Lewiston and then St. Luke's in Jerome. "I was born with my feet planted in mid-air," says Sister Barbara Jean in describing her comfort with the many changes she has experienced through her career in education and human services.
"I love working with creativity, with what-ifs, what-could-be… 'Status Quo' is not in my vocabulary. I am future-oriented. In answering God's call, I really don't think I am a good example. I fought for so long, but once I opened to new opportunities, life was amplified in unforeseen ways. Why fight it?"