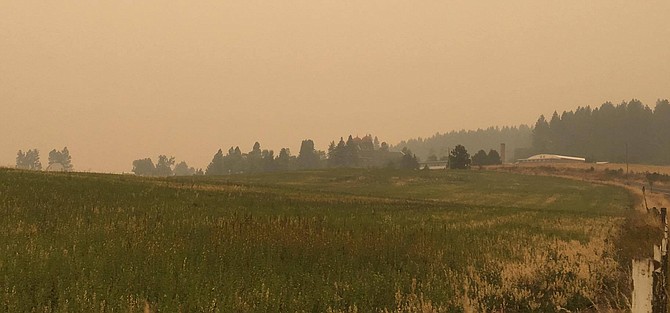 Photo by Laurie Chapman
Looking through the haze toward the Monastery of St. Gertrude, Tuesday, Sept. 5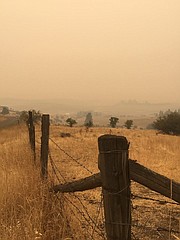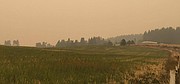 Unhealthy air quality conditions are forecasted to linger into this Thursday. Meanwhile, conditions due to regional wildfires put the city of Cottonwood yesterday (Sept. 5) in the top five nationally for poor air quality.
Idaho DEQ monitoring stations listed Tuesday air quality in Cottonwood at "hazardous" levels, currently (as of 10:30 a.m., Sept. 5) at 415 on the Air Quality Index (AQI). Hazardous levels range between 301 to 500 and list a warning as "Health warnings of emergency conditions. The entire population is more likely to be affected."
Also in the Sept. 5 top five for "hazardous" air quality were Potlatch, Juliaetta, St. Maries — all in Idaho — and Eugene/Springfield, Ore.
Under this advisory, all open burning is prohibited, including campfires, recreational fires, weed control burning, and residential burning.
As of press time, the last Idaho DEQ advisory for air quality — due to wildfire smoke – advised conditions as "moderate" to "very unhealthy" in Idaho, Clearwater and Lemhi counties. This advisory will be in effect until Thursday, Sept. 7.
According to the National Weather Service Missoula office, the forecast for Grangeville is hazy skies into Thursday, Sept. 7, with a temperature high of 97 on Wednesday, cooling to 90 on Thursday. A chance of thunderstorms will run through to Saturday.
Current air quality monitoring can be viewed online at www.deq.idaho.gov or at www.airnow.gov.