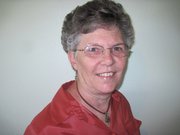 COTTONWOOD — Isn't it nice to have our beautiful blue sky back again? And the stars are out at night, too. We spent the weekend camping with our family. Even without a campfire we still had fun.
It is time to start the Pinochle club, so call Jo Ann McHugh if you would like to play. Call by Sept. 15, 208-962-3846.
Grief Share is a grief support group to provide support and encouragement for your grief journey. The program is nondenominational and features Biblical concepts for healing from grief. There are three key parts: video, group discussion and workbook. The support group meets weekly for 13 consecutive weeks beginning Wednesday, Sept. 20, and ending Wednesday, Dec. 20. Meeting time will be 6 to 8 p.m., and the location is the Catholic Education Center (CEC Building) located behind Prairie Elementary School. Suggested donation is $15 to cover the cost of the workbook. To register contact Greg or Colleen Sonnen: 208-983-5824 or 208-962-7049 or e-mail sonnenc@sd242.org.
Sister Mary's Children (non-profit) invites you to a dinner and dance charity fund-raiser to support the projects established by Sister Mary Paule' Tacke. Friday, Nov. 10, 6 - 9 p.m., at Greencreek Community Hall. Tickets: $15 per person, includes live entertainment, loaded baked potato bar, beer, wine and auction. Purchase tickets by Friday, Nov. 3. Contact: Sue Tacke at 208- 962-3902 or Joan Riggers at 208-924-7224.
Prairie Community Library announces their upcoming fund-raiser, Brats and Brew, on Oct. 21. Mark your calendars now. Tickets available at the library, on Tuesdays and Thursdays from 10 a.m. to 6 p.m. Phone number is 208-962-3714, 506 King Street, basement of the Cottonwood Community Hall. Advanced ticket price is $25 per person, or $30 per person at the door the evening of Oct. 21.
A Tacos and Taters benefit auction will be held Saturday, Sept. 16, starting at 4 p.m. at the Cottonwood Community Hall for Nate Gentry. Nate had surgery for a brain tumor which was benign, but he is still recovering from the surgery. He has insurance but it has a $10,000 deductible and also has other bills which were not covered by insurance.
Besides the food and beverages served, there will be an auction. If you would like to donate anything to the auction you may contact his mom, Lynette Gentry at 208-791-1110 or Todd Stenzel at 208-983-6033. A Go-Fund-Me account has been set up at https://www.gofundme.com/nategentrymedicalfund/donate.
Remember to keep in your prayers the people who are dealing with the hurricanes in Texas and Florida.