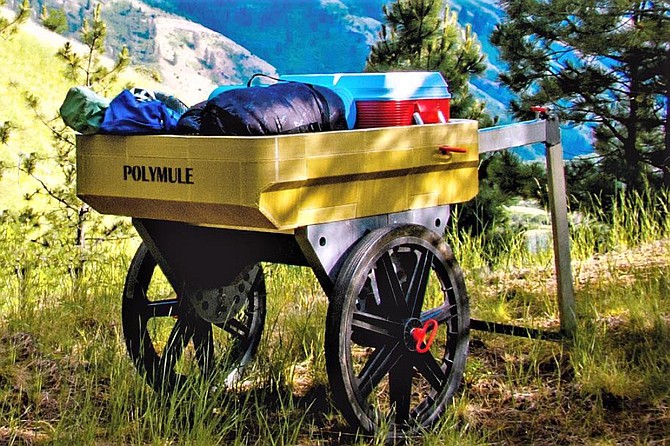 GRANGEVILLE — After a year of design and engineering and more than 980 hours of 3D printing, Dennis Draleau came up with an invention to be proud of.
Draleau is the founder and inventor of Polymule, Inc.
He began his start-up company in July 2017, but his love for all things mechanical started long before that.
"I have had a hobby interest in engineering since boyhood, but mainly have career experience in healthcare," he explained.
He moved to Grangeville in 2015 and started working at Syringa Hospital as an RN. He obtained his bachelors of science in nursing at Western Governors University and is currently attending graduate school to finish as a nurse practitioner.
What is Polymule?
The Polymule Handcart is a hauling device rated for more than 300 pounds of cargo. Draleau said the handcart will be marketed for expeditions, fishing and hunting, general labor and material hauling, emergency preparedness, humanitarian aid, and military applications.
"Originally, I just wanted the ability to take my stuff and my young family away on foot," he explained. "I tried to get my hands on a pioneer handcart and even a beefed-up garden cart, but found they were either cost prohibitive, or didn't provide the ground clearance, ergonomics, or features I wanted."
Though the production version will be roto-molded from high-impact thermoplastic, the prototype handcart was the result of hours and hours of research, design and printing
"Among other things, I designed it to be durable, toolless, and completely stowable," he said. Other features include no-flat wheels with precision ball bearings, an integrated kickstand mechanism which makes loading and unloading easier, and optional packages such as an all-weather cover and ATV attachment kit.
For details on the invention see www.polymule.com.
Once the cart is manufactured and available for public purchase, Draleau said there are plans for a line of products including an ATV attachment kit, solar trail kit and hand brake kit for downhill terrain.
"I'm currently in discussions with existing companies who may be interested to invest in the Polymule, as well as international humanitarian aid organizations," he added.