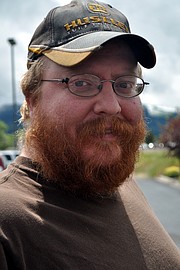 For better and worse, our era is one in which people pay too much attention to differences of philosophical opinion and not enough attention to small problems that do not require unanimity to resolve.
We could name our era after notable sports television loudmouth and Colin Kaepernick supporter Stephen A. Smith, for the purpose of comparing our time to other times in American history.
Of course, there have been eras in which irreconcilable philosophical differences had to be addressed.
We could name the 1850s after Stephen A. Douglas – the man who opposed Abraham Lincoln in political campaigns during the years right before the Civil War.
For our comparison, we could hash it over the way they do on ESPN. Would you rather have your side's point of view expressed by someone with Present Day Stephen A.'s gift for mocking soundbites, or by someone with Antebellum Stephen A.'s gift for 60-minute riffs?
Without a doubt, taking up such an argument would be a hopelessly pointless exercise, and we entertain it here only to expose a point about the issue that is fundamentally unique to the moment in which we live.
While technology has made it easier than ever for people to speak for themselves, institutions are still mostly in the dark about what people think. People don't show up for public meetings the way they used to.
History describes huge numbers standing for hours, listening to Lincoln and Douglas, but during the Sept. 5 Idaho County budget hearing last week, elected officials shared a laugh over something they – and we – are worried about. Even as they approved a tax hike that will affect owners of a bit less than half of the property in the county, officials worried that many of their constituents hadn't heard about it – despite weeks of coverage the topic had received from both the Idaho County Free Press and the Lewiston Tribune.
"Can I get your cell phone numbers for when the first calls come in?" assessor James Zehner asked.
"I think you've got it," commission chairman Skip Brandt answered. "But, of course, we won't get any of those calls until December."
Voters choose their own representatives for local office, yet their representatives were and are openly wondering what the people who picked them think about a couple of dollars-and-cents decisions that will hit voters right in the ledgers next fiscal year. And none of their constituents showed up at the meeting to speak for themselves.
Why did no one outside of local government and news media show up?
Our theory has a few moving parts:
First, while we could have written more, we published several articles about the budget while the commissioners were still working on it. We believe those who regularly read the Free Press are well-informed of Idaho County government issues, including the coming changes in their local taxes and fees.
Second, the new road and bridge tax – estimated to cost some county residents $125 per $100,000 in assessed property value on top of other local taxes – may not be personally alarming for some Free Press readers. That's because many Free Press print readers live within highway districts that operate independently from the county, outside the area that will pay the new tax.
Third, the most important information with the most direct implications for people's lives remains unknown. The county's road plowing services may be reduced this winter, and other types of road work may be reduced as well. People also won't have to pay the tax until the bills go out — hence Brandt's concern about what may happen to his phone this December.
Fourth, many people who are governed by Idaho County choose not to read the Free Press, and those folks may be blindsided when other outlets catch up with news, which has been in our pages and on our website since July.
But maybe it just goes back to the good and bad of our era. Our problems here and now are not the biggest problems America has ever faced, but we do think they are worthy of the general public's time and attention.