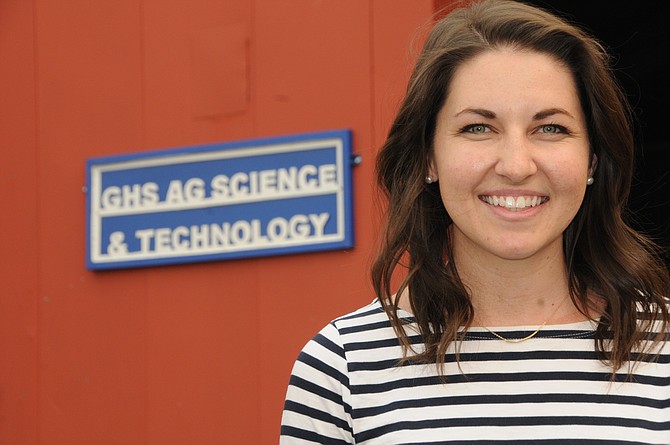 Photo by Lorie Palmer
Katie Mosman is the new Grangeville High School agricultural sciences teacher and FFA advisor.
GRANGEVILLE — A new face in education has taken over the helm of Grangeville High School's agricultural science education; however, to Katie Mosman, Grangeville feels like home.
"I grew up on a farm north of Nezperce and graduated from Nezperce High School in 2009," Mosman said. "Being in Grangeville really does feel like home."
Mosman grew up the oldest of four children under the roof of Dave and Cathy Mosman. The family raises native grass and wildflower seed for reclamation.
"The crops were very labor intensive," she said, and the siblings learned a strong work ethic early on.
Mosman made the decision at 6 years old that she would become an ag teacher when she grew up.
"My grandpa and mom had both been ag teachers," she said.
Something she had not planned on was joining FFA (Future Farmers of America).
"However, my grandpa was diagnosed with cancer when I was a freshman," she recalled. "I wanted to make him proud, so I joined FFA and participated in FFA Creed speaking and ended up making it to state." From there, she continued in the program and participated in a variety of contests, earned her State FFA Degree, and also became a local and state officer.
Mosman attended the University of Idaho where she obtained a Bachelor of Science in agriculture education. She taught two years at Vallivue High School in Caldwell, then took a year off to earn her Masters in Curriculum and Instruction at the McCall Outdoor Science School U of I field campus, where she also earned a graduate certificate in environmental education. Following that, she taught a year at Meridian.
"I love learning and am very passionate about agriculture," she said. "When the job opened in Grangeville, I felt as if it would be a perfect fit for me."
Mosman said she has integrated all side of the agricultural experience which includes ties with water and soil quality, animals and entomology.
"I believe we have to understand the whole circle, all the systems that work together, and figure out a balance," she said.
Although bookwork is a required element in her classes, Mosman said she is a proponent of hands-on learning.
"I think we learn best by doing, so anytime I can get the kids out to identify plants or touch an animal or identify a cut of meat – that's what we do," she said.
This school year, she is teaching Intro to Agricultural Science and Mechanics, Botany, Zoology, Fabrication and Welding. Next year that schedule could change some as she hopes to add practical, local work force training.
"It's still up in the air what all that will include, but my plan is to meet with local businesses and see what needs they have – what skills they want to see in employees," she said. She knows the equipment at GHS does not cater to all the skills required by employers, so she said she hopes to partner with businesses to provide some of the training necessary.
"I want to help produce quality, long-term workers that businesses feel good about investing in," she explained.
FFA is an intracurricular that Mosman will advise. Any student in any grade who is enrolled in an agriculture class is eligible to join.
"And it's not just about cows, sows and plows," she laughed. FFA offers leadership training, soil contests, marketing and business development, research, livestock judging, public speaking and more. Last year, about 20 students were FFA members at GHS. Mosman hopes to exponentially increase that number.
An open house FFA social event is set for Monday, Sept. 18, 6 p.m., with a free dinner in the ag room. Students and parents are invited to attend and learn more about the program, talk to those currently in FFA and asks Mosman questions as well.
Mosman will also be starting a GHS FFA Alumni/Booster Club to help support FFA travel and scholarships. Currently, aside from cash donations for the program, the GHS Agriculture Science and Technology Program can also use donations of tools to rebuild the current tool room; wood for various projects; and animals that die.
"That may sound a little weird, but it's such a great experience for the kids to dissect an animal," she said. "We had a hog one time and the owners could not tell why it died. We were able to dissect it in the classroom and found it had tumors all over the heart and lungs. That's hands-on learning you cannot get any other way."
Mosman's younger brother is currently in the transition phase of taking over the family farm. Her two younger sisters are students at the U of I. She said she is glad to only be an hour away from her stomping grounds in Nezperce.
"I am excited to be here and be a part of this program and be in this community," she said.
E-mail Mosman at mosmank@sd244.org.